Short cable lengths allow for clean, safe cable routing without having a lot of excess cable to deal with.
Cables with right angle connectors allow routing the USB cable close to its mating device rather than stick out where it is susceptible to damage.
Combine with TAPP LITE USB Power Cable for complete motorcycle USB power.
Cable is USB Type A to USB Type B Micro Right Angle Left. Note: this is a power cable, not a data cable. It cannot be used for data transfer.
Length: 9inch; 12inch or 18inch.
Which Way Is Up?
To us engineers, right angle means a 90° angle. It doesn't matter what direction it faces as long as it's 90°. However, when we talk about USB plugs, the direction the plug faces with respect to the wire exit direction makes a big difference. Our cables with right angle plugs have a modifier following the 'right angle' description that identifies the cable exit direction. The direction is specified with respect to the plug when looking at the face of the plug with the narrow side facing down. The illustration at the right shows the orientations.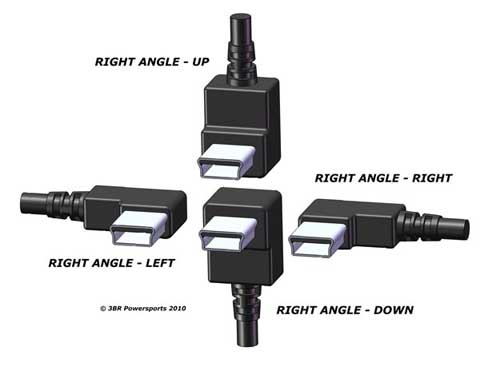 USB PLUGS DEFINED 3BR Powersports USB cables have three connector plug types: TYPE A – this is the common USB plug that plugs into a PC or power ports. It is always the 'host' or master end of the connection. TYPE B Mini – this plug was introduced by the USB organizing group in answer to the need for a small USB plug for portable devices. TYPE B Micro – As portable devices got smaller and smaller it became apparent that the Type B Mini was too tall (thick) so a thinner plug was developed. The Micro plug is the same width as the Mini but much thinner.
---
3BR TAPP CAPPed USB to Micro USB Angled Cable is available in the following lengths:
---
About 3BR Powersports:
3BR Powersports, LLC, is a family owned, family run small business dedicated to providing high quality accessory products for the powersports enthusiast. As avid powersports riders we found that we had accessory needs that couldn't be met with available products so we made our own. Other riders liked what they saw and asked if we could make parts for them. It got to a point where we were so busy hand making parts that we had to make a decision whether to create a small company to build products using higher volume techniques or farm the products out to someone else. Thus began 3BR Powersports
(202-0048)
Be The First To Review This Product!
Help other Adventure Moto Australia users shop smarter by writing reviews for products you have purchased.
---
Others Also Bought
---
More From This Category