About Australia's Largest Adventure Bike Parts Shop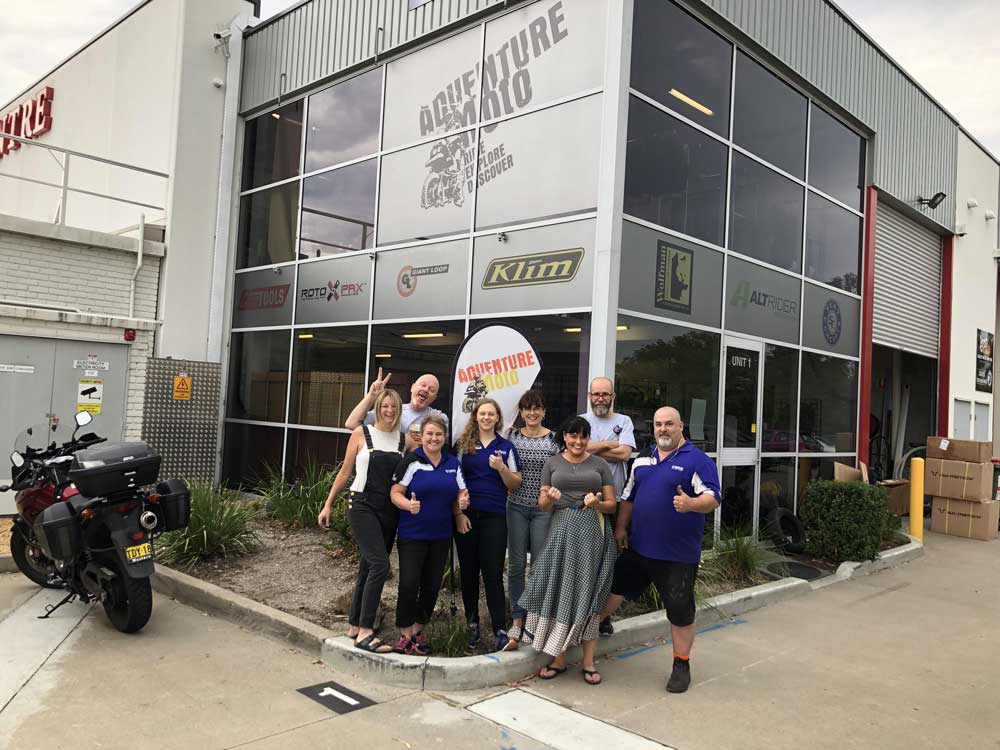 The Team at Adventure Moto - Who we are and what we currently ride
Steve (R1200GS, XT660Z, WR250R, MT-09, XLV750); Monique (WR250R, KTM Freeride 350, Suzuki 250RL); Cathy (YZ100, Sherco 125); Jen (XT250, WR250R, MT-07)
STEPHEN (WOLFY) SMITH… More than ten years ago I was climbing and hiking in South America when I met a couple of Adventure Riders crossing the Andes on their BMW 1150 GS motors. I realised then and there I was tired of trekking and wanted to ride my adventures.
I started Adventure Moto with the idea of bringing in the best gear and parts I would ride with on my own Adventures. I'm not an ex-pro racer, I don't think I am a better rider than the next bloke, I simply love being a 95%er, that is someone who would rather be riding dirt and trail than the blacktop (95% of the roads out there are unpaved).
My first bike was a Honda XR75 and eventually, I graduated onto an old DT175 and by the time I got my license a DR250. My first Big Bore Adventure bike was a BMW 1200GS and I have owned or ridden just about every kind of ADV bike since my passion developed. There is no right or wrong bike. Just the bike you love to ride. Sometimes I am as happy on a Yamaha WR250R as my current R1200GSW.
ADVENTURE MOTO AUSTRALIA has become the premier supplier in Australia of the best gear out there for riders that seek the road less travelled.
We are committed to providing you, the Adventure and Dual Sports rider, as well as any Motorcycle Traveller and Touring rider, with the best possible gear and advice. Some of our gear will fit on just about any bike and some of our apparel will work for you whether you ride an ADV bike, Sports bike, Scooter or Cruiser.
We have sourced what we feel is the best riding gear, parts and accessories, within Australia and from around the world. Our product range includes apparel, luggage, comfort seating, tools, fuel solutions, hard parts and emergency and survival products that will keep you as dry, happy and safe as possible. It's your ride and your adventure; you may as well enjoy it.
Our team members are all riders and personally believe in the gear we sell. Life is full of choices. You choose to ride and we choose to give you the best choices in products for your adventures on two wheels. We offer service, warranty and advice with a smile and energy that relays our passion for what we do and who we are.
Steve Smith
CEO of Adventuremoto
Keep in Touch:
Looking for our logos?
Download all our brand assets here: