About Australia's Largest Adventure Bike Parts Shop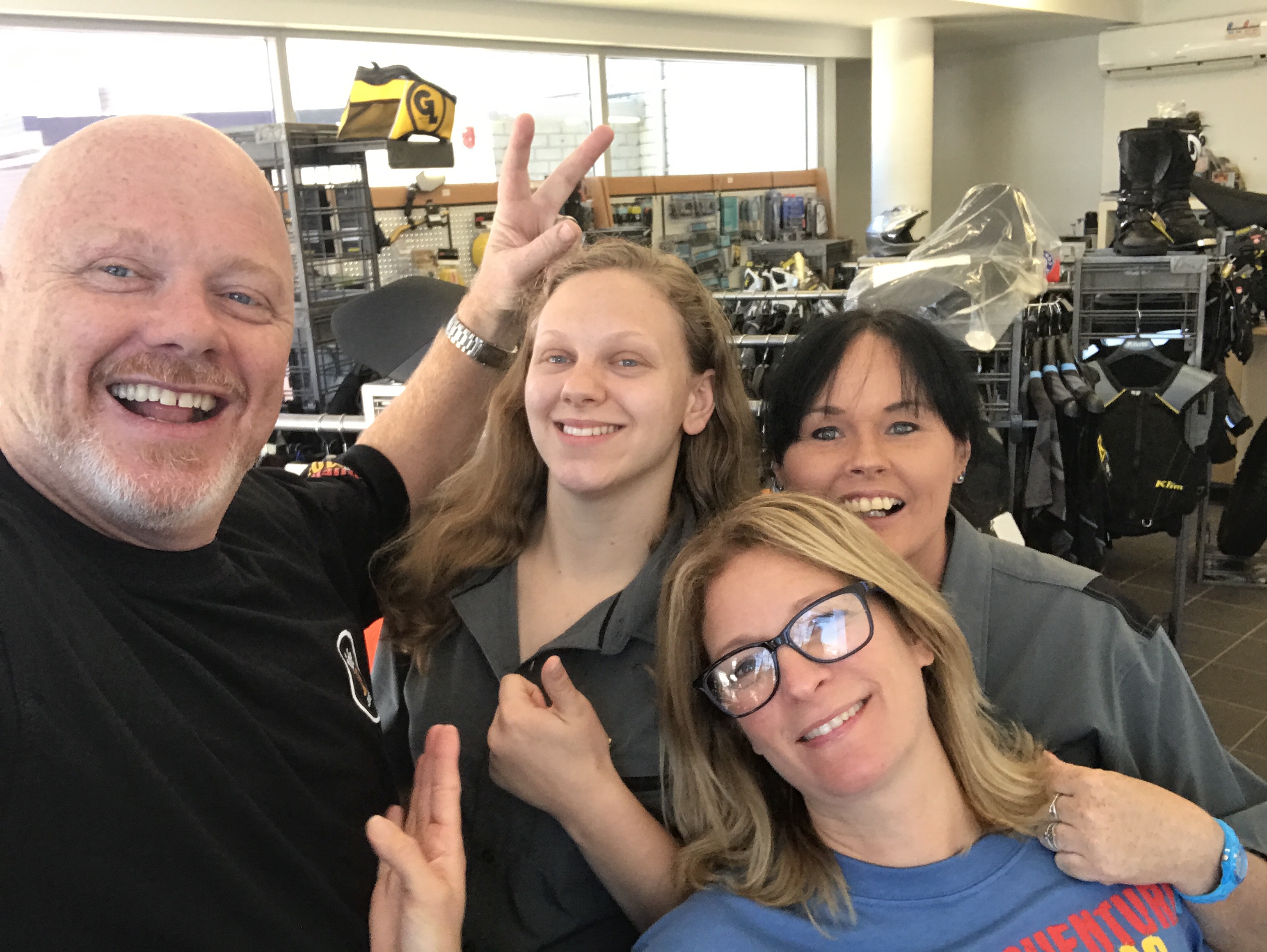 The Team at Adventure Moto - Who we are and what we currently ride
Steve (R1200GS, XT660Z, WR250R, MT-09, XLV750); Monique (WR250R, KTM Freeride 350, Suzuki 250RL); Cathy (YZ100, Sherco 125); Jen (XT250, WR250R, MT-07)
Adventure Moto is Australia's original adventure motorcycle outfitters. Supplying ADV riders since 2007!
Hi, my name is Steve Smith. I have been a keen adventurer and motorcyclist most of my life. My first motorcycle was a 1975 Honda XR75. One year I was bumming around in South America when I met three world travellers on BMW R1150GS motorcycles. I thought, this is what i would rather be doing... I started Adventure Moto with one brand, Wolfman Luggage, and now Adventure Moto is the largest Australian owned online specialist retailer of adventure motorcycle accessories, parts and apparel. We are a small family business of riding enthusiasts and proud to support our ride series with Yamaha Australia (www.rideADV.com.au).
Join us for a ride, call us for advice, come into our showroom. As well as importing, distributing and selling some of the leading brands in ADV, we also specialise in good old fashioned customer service and hospitality.
Some of the high quality products we sell, found locally and around the world include the following brands...
KLIM - Australia and the USA's most popular Gore Tex waterproof Motorcycle, Off-Road and Adventure riding gear.
WOLFMAN LUGGAGE - Wolfman has been manufacturing motorcycle luggage since 1992 and continues to be one of the most sought after motorcycle luggage brands on the market.
GIANT LOOP - GO LIGHT, GO FAST and GO FAR with Giant Loop. Their biomorphic Great basin Saddlebag is still the leading "Horseshoe" shaped soft luggage system that sits in behind the rider on almost any motorcycle.
SEAT CONCEPTS - Made in the USA by riders who ride and race on what they make and sell. Seat Concepts has become the leading brand in comfort seats in the US and Australia.
ALTRIDER - Is a Seattle based company manufacturing 100% American made hard parts for your motorcycle. Premium protection parts for most model Adventure and Touring bikes.
MOTO SKIVEEZ - Simply the most comfortable motorcycle undergarments and base layers on the market.
FORCEFIELD Body Armour - Is this the worlds most comfortable body armour? Forcefield leads the way in rider protection.
CRUZ TOOLS - Building customers one tool kit at a time. Kits for Metric, BMW and KTM motorcycles.
OUTBACK MOTORTEK - Canadian Hard Parts brand with bike specific crash protection for Adventure Motorcycles.
METAL MULE - We reckon Metal Mule is simply the strongest Hard Pannier luggage system on the market. Made in the UK for most model adventure and touring bikes.
We have many more parts and brands in store and on our website. We only sell gear we ride in or use on our own motorycles. If we do not stock any items you are looking for we will try and direct you to an Australian stockist or please let us know if you feel we should be stocking something we are not. Our business has been built on recommendations and referrals.
Cheers and thanks
Steve Smith - Owner