Redverz Atacama Expedition Tent shelters riders, motorcycles and gear in comfort and out of the elements. Can accommodate up to three people & a motorbike.
THE INDUSTRY'S ORIGINAL MOTORCYCLE TENT
When camping off a motorcycle, even as minimalist traveller, you have a ton of gear. "Not me," you say? Take off your helmet, riding boots, pants and armored jacket and see how big that pile is. If you are spending the night in anything less than a 2 person tent this gear either stays outside or it comes in leaving you with little room to lay back and spread out. Add a second rider and their gear to the mix and you'll feel downright claustrophobic. When that perfect, cloudless day you set out in turns into a raging, torrential downpour the realization hits, you need shelter. It's crystal clear at this very moment, in the dry spacious garage that your investment in the Atacama Expedition Tent has really paid off.
Stand Up Inside. Packs to 21" x 10" and Weighs 14 pounds.
The Atacama is the third generation of our original, patented motorcycle tent. The unique garage design birthed an entirely new tent genre back in 2008, a class of tents which had motorcyclists and their bikes clearly in mind. Others have attempted to copy the design, but we stay out front and constantly push the boundaries of luxury and functionality, designing gear that meets the needs and wants of our customers.
Ignore the gargantuan garage for a moment. We know....it's so spacious. Focus instead on the sleeping area. This is designed for 1, 2 or 3 campers, you decide the ideal set up. Real world - how big is the bedroom?
rage for a moment. We know....it's so spacious. Focus instead on the sleeping area. This is designed for 1, 2 or 3 campers, you decide the ideal set up. Real world - how big is the bedroom?
SLEEPING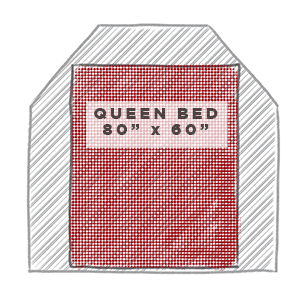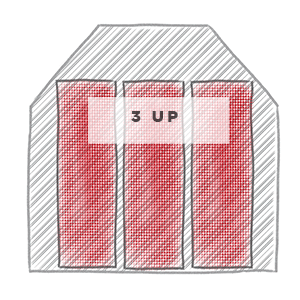 1 Up? Think twin bed XL with a bed side camp chair and your riding gear generously spread about the room.
2 Up? A queen size bed with ample space either side for your gear and your own unique entry/exit door.
3 Up? Pack it in. Still plenty of room for three pads, but some of your personal gear - especially those stinky socks and boots - are going into the garage. Heck, if you're are using the garage for additional campers throw a garage ground sheet down and go ahead and invite five of your friends to sleep over. Have them join you with their camp chairs to hang out and when the sun sets send them off to their micro tent for the night.
GARAGE/VESTIBULE
This is where it all happens in the Atacama Tent. The two opposing garage doors taper up from the bottom so you can ride any size full touring adventure bike with panniers straight through and park inside. If sleeping with your bike is not your thing stretch out and park chairs instead for coffee or meals. This vestibule is huge. One thing you'll have in common with other Atacama owners, you never knew how much you wanted to stand up in a tent until you could. Consider yourself warned, your friends will all want to hang out here.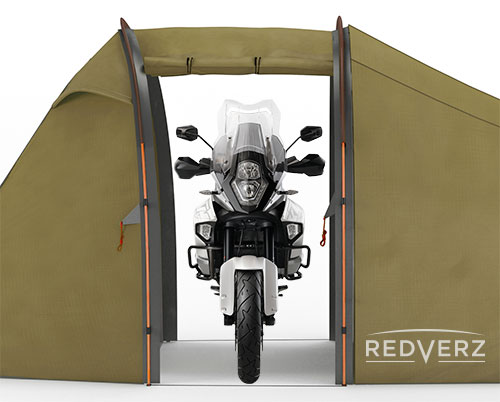 TECH
Let's get all geeky for a moment. When a storm comes through and that deluge of rain hits rest easy, our tents are waterproof. To be more specific, at 4000mm hydrostatic head we set the gold standard. If your tent specs have less than 3000mm on the outer fly, it's not expedition quality and barely useful for half hour of light drizzle. Read some of our testimonials to understand why we take this so seriously.
POLES
Good poles are the difference between a round-the-world trip and a failed weekend music festival. We source and build the finest aircraft grade aluminum poles available. We have pre-bends in ours, so finely designed they have already been contoured to reduce the stress on them. Whatever your trip brings these are designed to bring you home.
(RZG-TN3GN)
Specification

Description

Seasons

3-season

Design type

Hoop Design, Non-freestanding

Sleeping Capacity

3

Average weight
6.5 kilograms

Maximum width

254 cm

Maximum length

495 cm

Sleep Area

5.4 m

2

Sleeping Bay

234 x 241 cm

Motorcycle Bay

259 x 91 cm

Vestibule area

5.4m

2

Vestibules

1

Peak height

195 cm

Doors

4

Floor fabric

Polyester 70D 190T 10000mm

Rainfly fabric

Coated ripstop Polyester 68D 210T 4000mm

Inner Tent fabric

75D 190T/P breathable

Mosquito Netting

Mesh B3

Number of poles

3

Pole material

Aluminum 7001 T6, shock cord

Pole diameter

11mm (2) 9.5mm (1)

Packed Size

23 x 53 cm



Worth the wait

By:

Gary Mellor

on 20 July 2018

I had been following the Redverz Atacama tent for a few years and read every review I could find about the tent in this time, it was always an overwhelmingly positive review and after the purchase I understand why. Adventure Moto in Aus was the cheapest local supplier by a considerable margin and comparable to what it costs in the US, a great effort for a local supplier to be so competitive. Once the tent arrived I wanted to put it up and see what I got for my money, if you watch the Redverz videos it was only a 10min job even the first time. Overall it is a very well constructed tent that looks like it will do what I require perfectly. Once it was up I noticed that it was missing one clip to help support the motorcycle bay to the aluminium posts, it looked like it had just not been sown in. I decide to let Adventure Moto know more to cover myself if I had a problem in the future if it ripped without the extra support the clip would give. Adventure Moto advised they would contact Redverz and got back to me within a week. Their response was above and beyond what I expected, a new outer fly sheet was being sent out to me, no questions no wait it was already on its way. Sometimes it pays to buy a quality product from a local supplier and the price as far as I am concerned is now just money well spent. I will be using Adventure Moto for future purchases and can highly recommend the Redverz Atacama as a great quality product that I look forward to using for many years to come.




(5)
More than just a Motorcycle Tent

By:

Andrea Lanagan

on 12 February 2018

I bought this tent to specifically go on the bike, however, it has also become my main camping tent. For such a lightweight tent it is extremely tough and durable, so easy to put up and down and can weather any storm. The sleeping area easily fits two King Single mattresses if 4WD or 3 Helinox camp stretchers if on the bike.




(5)
Tardis

By:

Ian

on 12 February 2018

I suggest renaming this tent the Tardis. - compact and light weight when packed up but very roomy when put up! Compact enough to be packed into a 65L dry bag along with an air mattress, sleeping bag, pair of shoes, pair of sandals, pump, tool roll, thermos and other stuff I can't remember. When it's up (erected?) there's standing room in the sleeping section and the day/bike parking section. My 1200RT with panniers fits in the front section and the drive through feature makes it easy to get out. The nylon floor in the sleeping section is what keeps the weight & packed volume down. But make sure you buy and fit the nylon groundsheet which in effect becomes a a protective disposable (if holed) floor. Having said that, I haven't had to replace mine. There's a few options for air flow in warmer weather. Purpose built for motorcycle camping this is a great product. Pricey but you get what you pay for.




(5)
Best tent I've ever owned

By:

Justin van Boog

on 15 January 2018

We bought the Redverz Atacama tent for our motorcycle trips as we wanted something lightweight but bigger inside than a hiker's tent. After a lot of research, we found this tent and decided to take the plunge an buy it. I can't say enough good things about this tent! We've used it on several long motorcycle trips and it has been fantastic. In the QLD heat it opens up so much you get a good breeze through it, and even camping in the cold in Iceland it kept us warm and comfortable. Our Triumph Tiger 800 fits in it well (panniers off) and we now use it for our normal camping as well as motorcycle camping because it is so easy to set-up and pack-up. The amazing thing is that it's even big enough to fit both of our Helinox stretchers and mattresses in so we don't have to rough it on our bike trips. You will not be disappointed spending the money on this tent.




(5)