SPOT Gen3 Tracker Packer Combo
SPOT Gen3 GPS Satellite + Giant Loop Tracker Packer
Rated

5

/

5

based on

1

reviews.
This combo includes the Giant Loop Tracker Packer for SPOT Gen3 is a ruggedized holster harness mount for GPS beacon benefits Kurt Caselli Foundation for offroad safety and the SPOT Gen3, that lets family and friends know you're ok or sends emergency responders your GPS location, all at the push of a button. Add this rugged, pocket-sized device to your essential gear and stay connected wherever you roam.
Spot Gen 3
When your adventures take you beyond cell service, SPOT Gen3 lets family and friends know you're ok or sends emergency responders your GPS location, all at the push of a button. Add this rugged, pocket-sized device to your essential gear and stay connected wherever you roam. Long live adventure.
SPOT Gen3's customized tracking features take your SPOT experience to the next level. Only with SPOT Gen3, is tracking motion-activated with Unlimited or Extreme tracking upgrades. A vibration sensor tells your SPOT to send track updates when you are moving and to stop when you do. (This is a great new battery-saving feature! And, you don't have to remember to re-set your tracking after 24 hours.)


New Tracking Options:

Unlimited Tracking Set it and forget it. Pre-set your SPOT Gen3 to send tracks at the speed of your adventures. Change your tracks to send every 5, 10, 30, or 60 minutes. SPOT Gen3 will send tracks at your chosen rate for as long as your device is turned on and moving (no need to re-set after 24 hours). Tracking doesn't stop until you do. 

Extreme Tracking Get all of the great features of Unlimited Tracking, but with the added ability to vary your track rate down to every 2 ½ minutes. Don't miss a step with increased track rates!
Longer Battery Life SPOT Gen3 has approximately twice the battery life of the SPOT Satellite GPS Messenger! 

Battery Options Now there are more options for how you power your SPOT:
4 AAA Energizer® Ultimate Lithium 8x Batteries (L92)

4 AAA Energizer® NiMH reusable batteries (NH12)

Line power with a 5v USB connection. (SPOT Gen3 is not waterproof when line powered.)
Features:
S.O.S.: With the push of a button, GEOS International Emergency Response Coordination Center provides your GPS coordinates and information to local response teams - for example contacting 9-1-1 responders in North America and 1-1-2 responders in Europe The S.O.S. button is for emergencies only.


Check In: Let family and friends know you're ok when you're out of cell phone range. Send a pre-programmed text message with GPS coordinates or an email with a link to Google Maps™ to your contacts with your location. With a push of a button, a message is sent via email or SMS to up to 10 pre-determined contacts and your waypoint is stored in your SPOT account for later reference. Your stored waypoints can be easily integrated into a SPOT Shared Page or SPOT Adventure account. 


Help/SPOT Assist: Alert your personal contacts that you need help in non-life-threatening situations. Or, use SPOT Assist for professional services on land or water. (Additional service required).

Custom Message: Stay in touch while off the grid by sending your custom message. Set up a message before leaving to send to contacts with your GPS location. Use this feature as a secondary OK message or transfer your personal help alert to this message function if you are using a SPOT Assist service on your Help button.

Tracking: Allow friends and family to follow your progress online in near real-time and save waypoints so you can review your entire route at a later date.
Included with the Spot Gen3
Strap

USB Cable

Quick Reference Guide

Carabiner

Batteries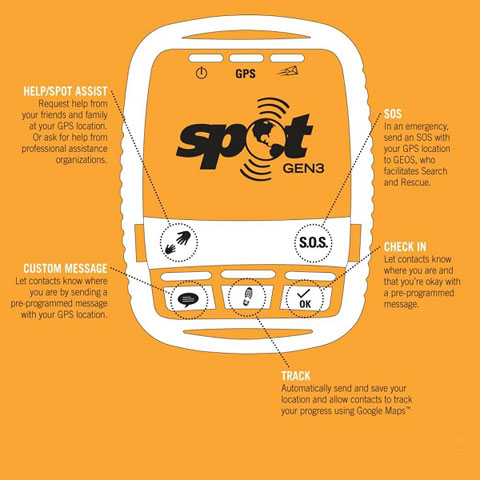 Tracker Packer
Working in conjunction with 4-time Baja 1000 winner Quinn Cody and the Kurt Caselli Foundation, Giant Loop developed the Tracker Packer™ to help keep off-road racers safer. Giant Loop will donate a portion of all sales of the Tracker Packer to the KURT CASELLI FOUNDATION!
Stay safer in the backcountry during all of your outdoor adventures — motorcycling, snowmobiling, hiking, backpacking, climbing, biking, boating — with help the push of a button away. The super rugged and secure Tracker Packer firmly attaches the SPOT Gen3 device to your pack's shoulder strap, handlebars, fork tube, arm or many other locations.
NOTE: Wearing the SPOT on your body with the unit in a horizontal position is the best practice.
This simple system represents peace of mind for you and the people who care about you!
Compatible with SPOT Gen3 device only

Red biothane printed with "EMERGENCY" and the "Caselli 66" logo

Redundant double hook-and-loop SPOT Gen3 attachment system

2" heavy duty hook-and-loop band with Slip-Not grippy backing

Foam padding to absorb shock and vibration

Reflective trim for visibility

Fully bound seams

Webbing loops for additional mounting and tethering options

Mil-spec materials and hardware

Limited Lifetime Warranty

Made in USA
Compatible with the SPOT Gen3 device only. Fits virtually any motorcycle make/model — dirt bike, dual sport, enduro, adventure touring and sport bike — as well as most backpacks, snowmobiles, mountain bikes, etc.
(SPOT3-TKP15)
Spot Gen 3

By:

Phil Bragg

on 15 January 2018

Bought my Spot Gen 3 from Adventure Moto in 2016 on recommendation of a riding buddy. Device is easy to use, light weight and gives my wife piece of mind when I am out on the trails. Also great for tracking where you have been as you can print out a map of your travels. Mine went across the Simpson Desert with my son and we could see exactly where they were each day. Its also nice knowing , that if you do have troubles, then help is a push of a button away. Thanks to team Adventure Moto!




(5)
---
Others Also Bought
---
More From This Category