Seat Concepts KTM SX/XCF (2016) / XCW/EXC-F (2017-current) / SX/SXF/XCF/XC (2017-2018) TALL Comfort - Six Days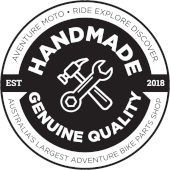 This is 9/16 inch (15mm) TALLER than the stock seat height
(Photo is of the STD Height Seat)
Details:
Seat Concepts seats are constructed using a foam material that is a much higher quality than OEM seat foam. Our proprietary formula provides a more plush and active ride, while still offering the necessary amount of support. Our unique comfort shape maintains a similar contour to stock at the front of the seat so the rider's legs are not spread farther apart, but tapers out towards the mid-point to distribute rider weight over a greater area.
These features combine to offer a custom seat feel, and provide greater enjoyment and increased range on a long commute, or Dual-Sport ride!
Note:
Some 2016 models did not have an indentation in the underside of the seat pan called a pan pocket that provides additional clearance for an electrical module that will be present on TPI models. Our LOW foam and cover kit only works on models WITHOUT the pan pocket. Verify if your stock pan has a pocket if ordering a kit. Our Standard height and Tall models are available as a foam and cover kit, for models with or without a pan Pocket. All standard and tall Seat Concepts 2016-18 KTM Complete seats have pan pockets. Our low seat will NOT work on the TPI models.
------------------------------------------------------------------
PLEASE VERIFY FITMENT BELOW BEFORE PURCHASING THIS SEAT. PLEASE CALL US IF YOU HAVE ANY QUESTIONS PRIOR TO MAKING YOUR PURCHASE
------------------------------------------------------------------
Fits Years/Models:
2015 450SX Factory Edition
2016 SX 125
2016 SXF 250, SXF 350, SXF 450
2016 XCF 250, XCF 350, XCF 450
2017 SX 125, SX 150, SX 250
2017 SXF 250, SXF 350, SXF 450
2017 XC 300
2017 XC-W 150, XC-W 250, XC-W 300
2017 EXC-F 250, EXC-F 350, EXC-F 500
2017 XC-F 250 XC-F 350, XC-F 450
2018 SX 125, SX 250
2018 SXF 250, SXF 350
2018 XC-W 150, XC-W 250, XC-W 300
2018 EXC-F 250, EXC-F 350, EXC-F 500
2018 XC-W TPI 250
2019 EXC-F 350, EXC-F 450, EXC-F 500
2019 XC-W TPI 250, XC-W TPI 300
2019 XC-W 150
WILL NOT FIT:
2018 450SX-F Factory Edition
COMPLETES WILL NOW FIT THE TPI BIKES!
Important Information:
Per OEM specifications, the seat bolts should be tightened NO MORE than 7 ft/lbs to prevent tightening or stripping. Over tightening can cause a failure. Cross threading can also be an issue and should be avoided. DO NOT use air tools to tighten seat bolts as it can cause them to be stripped.
---
About Seat Concepts:
SEAT CONCEPTS is a world-class manufacturer of high quality and great value motorcycle comfort and race seats. All seats are manufactured in the United States. Seat Concepts has been making Off Road and Adventure Bike seats, as well as custom seats for classic and sports bikes and now expanding into the cruiser (think HD) market, for over ten years. With a range of covers, foam densities and heights to suit every type of rider (Low, Standard and Tall) for hundreds of bike models and years, Seat Concepts probably has a seat kit or a complete seat to fit your bike. Our most popular seat finish is a "Carbon Fibre Gripper" cover that offers a level of friction to help stop you sliding every time you hit the brakes and a standard density foam is suitable for most riders. The real trick is how Seat Concepts seats support the riders hipbones with their wider than standard seats and superior density foam. You can't turn your two wheels into a lounge chair, however, if you can extend your ride time and comfort throughout the day, then Seat Concepts if probably the best value seat solution you can invest in.
(28-0161-SD)
Be The First To Review This Product!
Help other Adventure Moto Australia users shop smarter by writing reviews for products you have purchased.