KLIM'S New 2018 Men's Badlands Pro Jacket And Pants
Author: Team Adventuremoto Date Posted:7 February 2018

Presenting the new 2018 Klim Badlands Pro motorcycle jacket & pants—Engineered for Australian conditions with FIVE times the ventilation (through-armour flow) and comfort and movement with the best safety ever. Available from ADVENTURE MOTO AUSTRALIA and available Australia wide with our FIT guarantee as well as the exclusive KLIM Crash guarantee.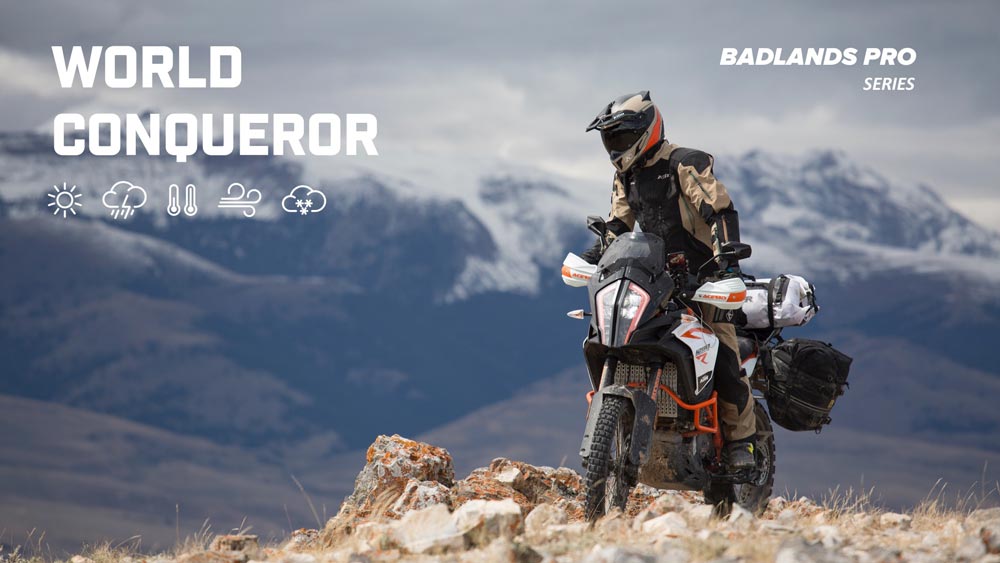 BADLANDs PRO MOTORCYCLE JACKET & PANTS LANDING IN AUSTRALIA MID-FEBRUARY 2018
Click "Notify Me" on our Badlands Pro product pages to ensure you don't miss out!
When Badlands Pro was released to the Adventure-fueled riding population over five years ago, it started a global motorcycle travel movement. Quickly, KLIM's Badlands pant and jacket combo became the most trusted Australian travel companion for many adventure motorcyclists. And travel, not only throughout Australia but the world it did! It now reigns as the undisputed riding gear of choice for the toughest rides in the harshest conditions, from Steep Point to Cape Byron and beyond. It is truly dependable and worthy of its crown as the undisputed choice for serious ADV riders who travel and adventure from the blacktop to the red centre.
But now, KLIM's launching an all-new Badlands Pro, and it wants you to conquer Australia and the globe with revolutionary intent! It will inspire you to ride longer days to more epic destinations and to achieve the ride of your dreams.
Engineered with proprietary ride-enhancing tech, the new Badlands Pro redefines world-class riding gear. It's more user-friendly, more comfortable, easier to live in for months at a time and provides higher levels of strength and safety than ever imagined.
From the inside out, KLIM has engineered the core of Badlands Pro DNA for your next epic ADV journey. These newest additions incorporate breakthroughs in armour impact, armour coverage, armour comfort and performance, as well as ventilation, storage, all-weather functionality, abrasion resistance, durability, and visibility.
Here's how the all-new Badlands Pro is revolutionising Australian adventure riding, yet again.
KLIM AERO PRO D3O® MOTORCYCLE ARMOUR
The most advanced armour in the world KLIM was one of the first to use D3O®'s flexible armour technology in motorsports apparel. Since the initial use of off-the-shelf D3O® armour, KLIM has worked in partnership with D3O® to refine its product offerings to meet the specific needs of Australian motorcycle riders. From a wider temperature range of use to higher levels of CE impact certification, KLIM is constantly searching for the next armour system solutions. And over the last two years, they put their money where their armour was.
Conducting their own study on all currently available raw armour materials, KLIM's product engineering team concluded via independent laboratory testing that nothing has more performance potential than D3O® across the widest range of conditions. These are conditions Australian KLIM riders experience outside the lab on a daily basis in our rugged environment. From the Snowies to the Simpson, from Tassie to Townsville, the properties of the D3O® raw material are scientifically superior. But that wasn't good enough...
Once D3O® proved itself as the material of choice, KLIM went to work perfecting it. From molecular to structural, what KLIM® and D3O® have now created is nothing short of revolutionary. We're now introducing KLIM AERO PRO D3O®—The most advanced armour in the world.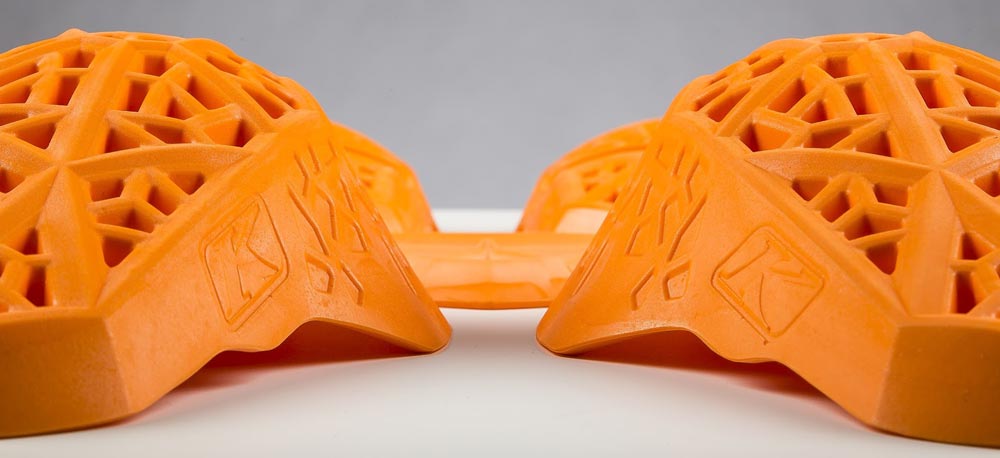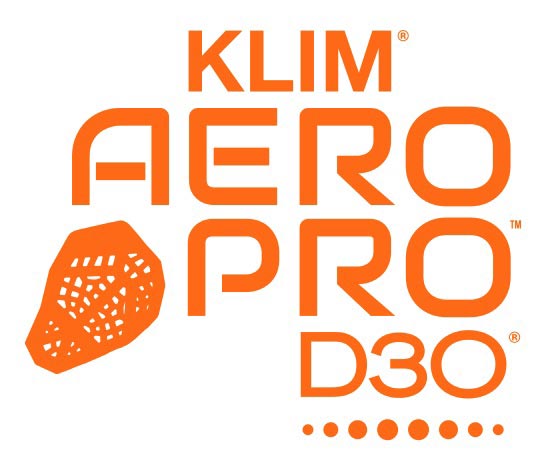 AERO PRO D3O® offers the most coverage and highest performance of any armour technology available in the world, passing CE Level 2 testing criteria across the gamut of temperature and moisture conditions. And it does this while ventilating 5X as much as the next best performing D3O®, with 44% more coverage—perfect for those sweltering Aussie summer days.
AERO PRO D3O is the most ergonomically correct, highest performing, most well-ventilated and widest-covering Adventure Riding-specific impact armour on the planet. It was designed by KLIM for one purpose: to serve the needs of world-class adventures.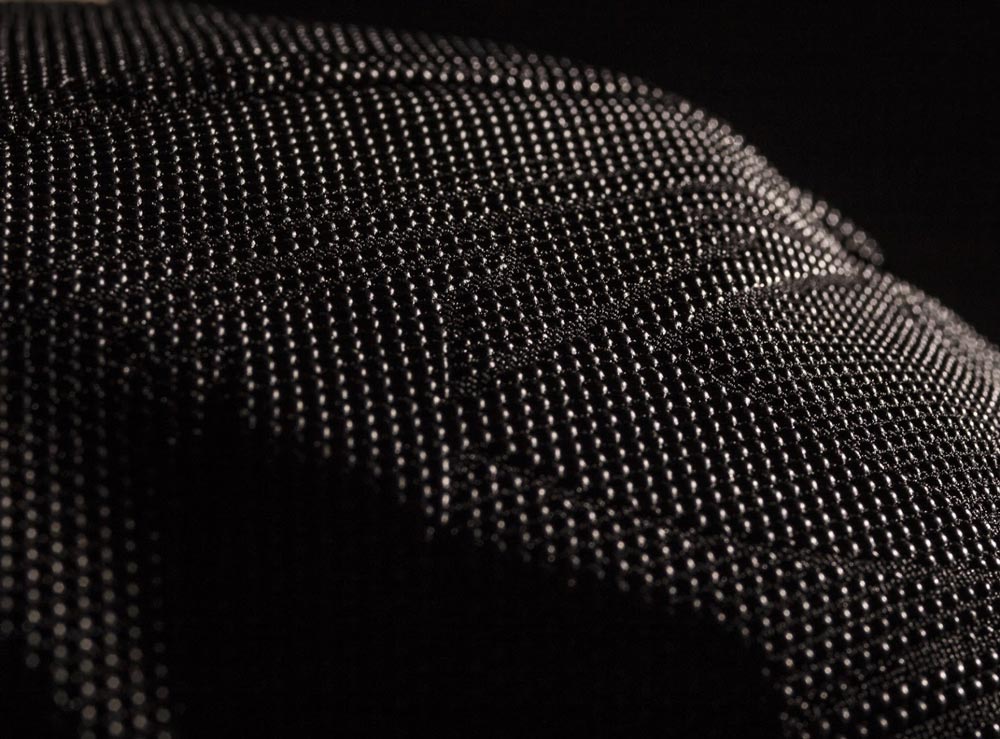 ABSOLUTE ABRASION RESISTANCE
Movement is an important and inherent part of the motorcycle experience. KLIM's engineered exterior shell specifications work hard to enhance that experience. They are not off-the-shelf, lookalike sheet goods sourced from discount centres in dark corners of the world. These are purpose-built hardware components assembled into the smartest clothing system ever created.
KLIM invests heavily into developing this tech. And for the Badlands Pro, one of the largest investments has been with Superfabric® extreme abrasion panels placed on the highest abrasion zones. These custom-engineered, variable density fabric hybrids provide an elixir of free movement and ironclad resistance for everything Australia can throw our way. This is the tip-of-the-spear for off-the-bike environmental contact, with Superfabric® placed in strategic locations to shed unwanted abrasion with absolute resilience.
Next, KLIM's exclusive KARBONITE™ Ripstop panels back up Superfabric® in key impact and wear areas to provide high-mobility, yet extremely tough active fit patterning for an unmatched combination of comfort and durability.
To enhance movement and on-the-bike comfort in the face of the most durable exterior shell, KLIM engineers worked hard to incorporate user-friendly flexibility and intuitive ergonomic access to things like pockets and ventilation zippers. The high-spec fabric combinations, combined with articulated patterning bring a major upgrade to the comfort of the new Badlands Pro.
GUARANTEED TO KEEP YOU DRY® ADVENTURE GEAR
This promise is backed by the proven performance of KLIM's use of motorsports-exclusive GORE-TEX® 3-Layer Pro Shell technology. Only KLIM bonds the world's most breathable and durable waterproof apparel technology directly to the outside of the most durable shell materials ever created. You will not find this level of GORE-TEX® weather-proofing technology combined with a higher degree of external material engineering in the world.
KLIM's GORE-TEX® integration ensures a dry, breathable and comfortable ride regardless of exterior conditions or how hard you work. All this comes without fumbling with inferior liners.
Badlands Pro inspires you to keep riding through it, whatever it is, and allows you to wake up ready to do it all again for the rest of your life.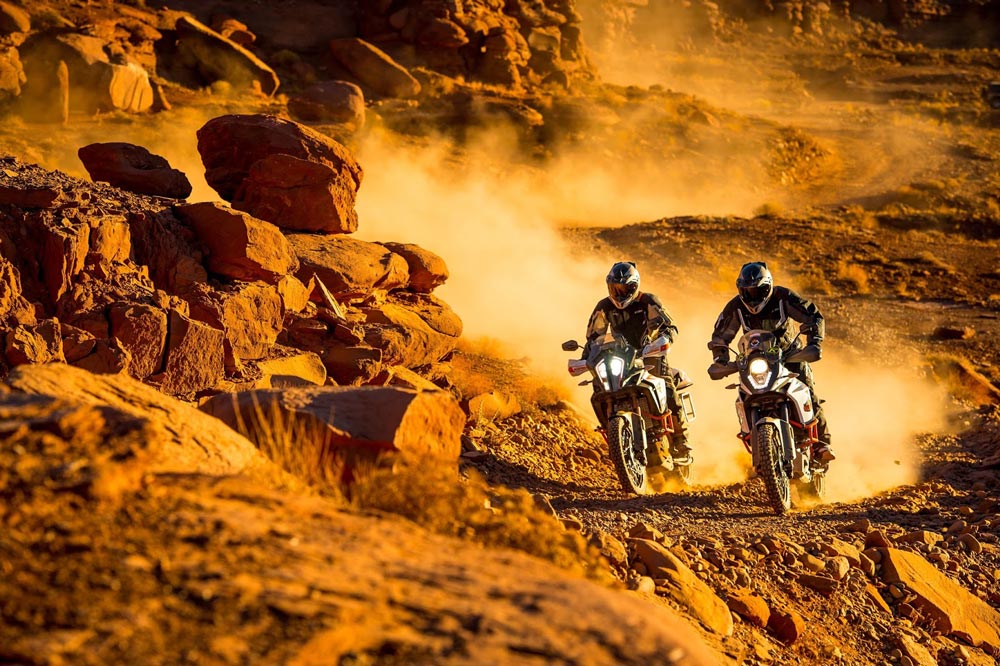 MOTORCYCLE GEAR VENTILATION PIONEERED FOR THE AUSTRALIAN CLIMATE
External weather conditions are only half of the comfort on a ride. After all, riders on the Canning Stock Route heat up regardless of what the thermometer says. That's why KLIM developed the most intelligent ventilation system for the all-new Badlands Pro.
Starting with the dynamic D3O® AERO PRO armour's open structure, airflow can now move completely through the best armour in the industry, cooling protected limbs in high exertion riding by expelling heat at newfound speeds—we're talking about a five-time increase in ventilation.
Further, KLIM ingeniously engineered KLIMATEK COOL base layer fabric into the armour pockets of the Badlands Pro. This innovative cooling fabric utilises chemical-free moisture transfer and cool evaporation technology that does not wear out over time. The result is a fabric with hyper-wicking properties to cool your skin under jacket and pant armour.
To combat foul odours and sweaty residue buildup, KLIM now incorporates Polygiene technology to the entire interior fabrics of the new Badlands Pro. This fabric tech applies naturally occurring bacteria-eliminating properties to fabrics, to stop riding stench before it even starts.
CONQUER MOTORCYCLE TRAVEL THROUGHOUT AUSTRALIA, AND BEYOND
Living in your gear day in and day out gives you a very intimate experience of all its attributes and nuances. Traversing the globe—deserts, mountain ranges, and foreign cities—brings unique challenges both on and off the bike.
The new Badlands Pro is designed to inspire you to conquer travel. Take that desert route you'd otherwise forgo; explore deep into foreign lands with confidence knowing your personal property is secure from opportunists. We've incorporated more hidden stash pockets, designed with day to day functionality to work intuitively with the rider, and incorporated anti-odour properties that will help you blend in while your adventures stand out. The new Badlands Pro is focused on pushing you to ride further, explore more, and experience your adventure to the fullest. At KLIM, we know your choice to suit up and ride is a commitment. And, the ability to get away from it all is a privilege you've worked hard for. We take the responsibility of building apparel you can trust very seriously. Because when you suit up in KLIM, you need to know you're wearing the absolute best.
Badlands Pro will be available mid-February 2018, with 5 new jacket colourways and 3 new pant colourways. Pricing for the jacket starts at $1,495.00. Pants also come in expanded size ranges: Regular 30-44, Tall 32-40 and Short 34-44. Pricing for the pants starts at $1,045.00 with all prices in AUD.