Satellite Messengers vs. Personal Locator Beacons: What's the Difference?
Author: Team Adventuremoto Date Posted:12 July 2018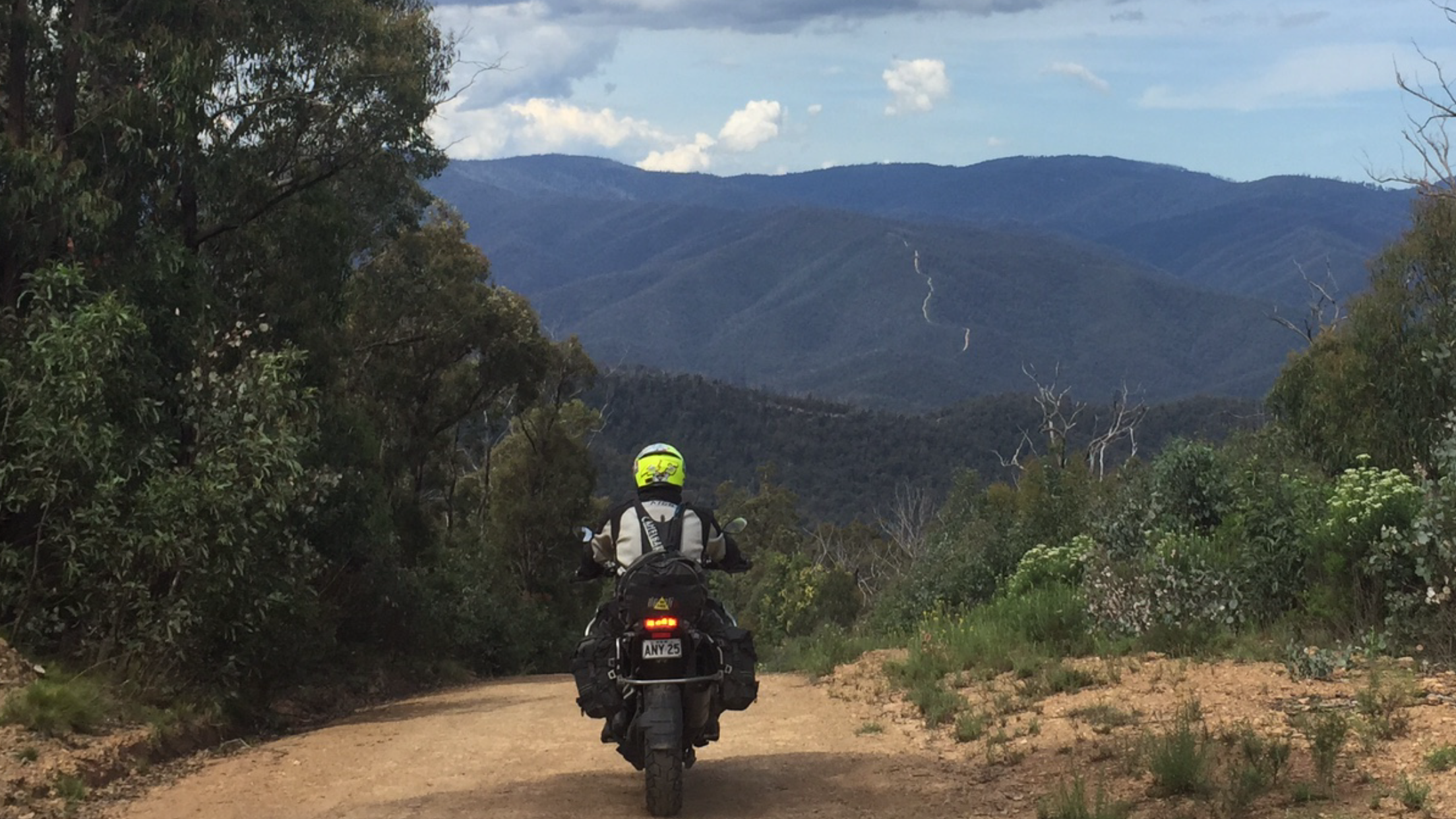 First off, let's be clear on what Satellite Messengers and Personal Locator Beacons (PLBs) actually are. It's pretty simple, really; Both are handheld devices that contact emergency services via satellite in the case of an emergency. However, Satellite Messengers also offer communication capabilities with friends and family, whereas PLBs are strictly for contacting emergency services. It's also important to note that while both get the message across in an emergency situation, distress signals from PLBs get sent via a more powerful satellite system than Satellite Messengers, which use a different satellite network entirely.
Because Satellite Messengers transmit your coordinates and messages to family and friends as well as emergency responders (different buttons for different needs), it makes them mighty handy for letting loved ones know you're okay on that long motorcycle ride, if you're going to be delayed, or worst case, if you need to call in a rescue party for life-threatening emergencies. On the other hand, a PLB is much more simple and pre-registered with your personal information that alerts authorities to your location directly, with no communication with family or friends.
There are a few different varieties of each, and knowing the differences is important to figure out which you should get. First, we'll go through the differences between our top Satellite Messengers, and then explore our favourite PLBs.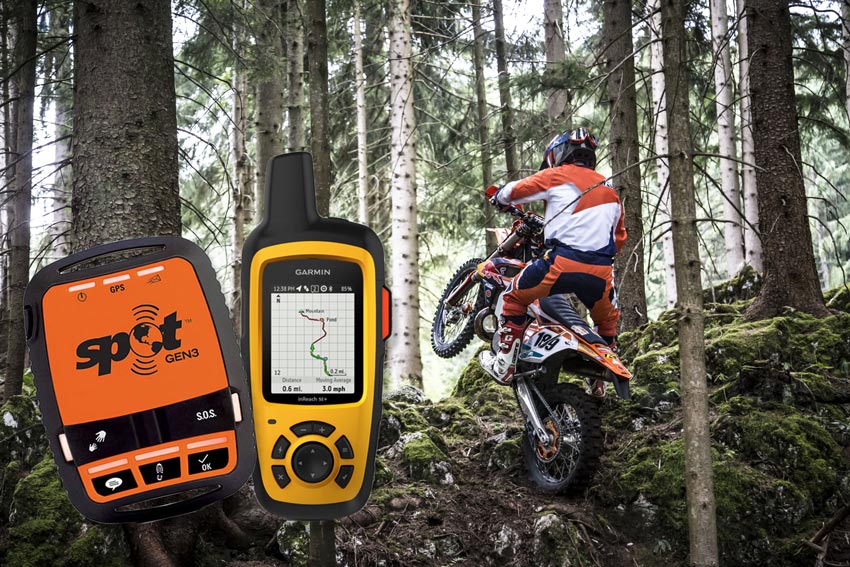 Satellite Messengers: SPOT Gen3 vs. Garmin inReach The most major difference?
The SPOT Gen3 allows you to send messages and your whereabouts one-way with friends, family and emergency responders, while the Garmin inReach allows two-way communication via text messaging, as well as GPS navigation (a major bonus, if that's something you require).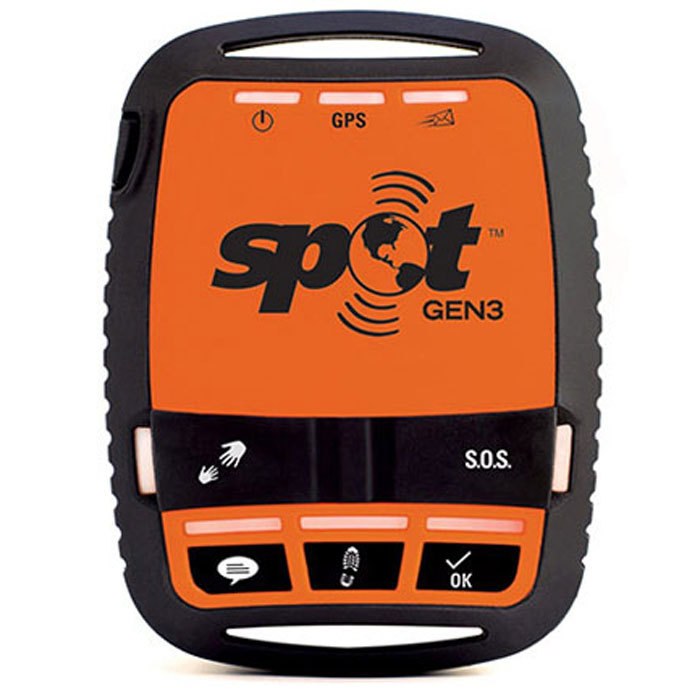 The SPOT Gen3, SPOT's most popular device, took the outdoor industry by storm and continues to grow in popularity for everyone from gap year students to intrepid backcountry hikers and overlanders. They're a prudent piece of kit to carry, not too expensive to purchase, and have saved thousands of lives. In SPOT's words:
"The latest generation of award-winning SPOT devices, the SPOT Gen3 gives you a critical, life-saving line of communication using 100% satellite technology."
Upsides:
The SOS button notifies emergency rescue coordination centres of your GPS location using the low-orbit GEOS Globalstar satellite system. From what we've learned, this is a slower system than inReach's Iridium network.
The Help button lets you request help from your contacts at your GPS location.
The Custom Message button allows you to send a pre-programmed message to your contacts. For example, "I've hit a snag and will be a couple days late, but all is okay!"
The Check-In/Ok button lets your contacts know you're okay with a pre-programmed message and your GPS location.
The Tracking button sends and saves your GPS locations and allows contacts to track your progress via Google Maps.
The Motion Activated Tracking feature allows your SPOT Gen3 to sense movement and only track when you're actively moving from location to location.
Upgrades are available for SPOT's Extreme Tracking feature, offering faster tracking interval rates.
Automatically post pre-set messages to your social media channels.
Upgrade to the GEOS Member Benefit for reimbursements of Search and Rescue expenses, plus emergency rescue coordination.
Not quite as powerful as a PLB, and requires an open line of sight with the sky.
Uses 4 AAA Energizer Ultimate Lithium 8x batteries or NiMH rechargeable batteries.
Send 1,250 Check-In and Custom Messages on a single set of Lithium batteries.
Not too expensive, at only $239 at Adventure Moto.
Drawbacks:
In order to function, SPOT devices require a yearly subscription, which has recently gone up in price. Last we checked, the service fee for the SPOT Gen3 was $219.99USD, or about $22 bucks USD a month.
You're unable to send on-the-fly personalised messages or text messages with the SPOT Gen3, like you can with the Garmin inReach. You can, however, purchase the SPOT Connect, turning your smartphone into a two-way satellite communicator with this added device.
The SPOT Connect allows you to custom write 41 character texts or emails with your smartphone.
Requires an open line of sight with the sky, and there are still some places on the planet where SPOT devices don't work (Antarctica, Sub-Saharan Africa and others).
Not reliable indoors, in a cave, or in very dense woods. Of the hundreds of messages we've sent to our contacts, a few have not made their mark.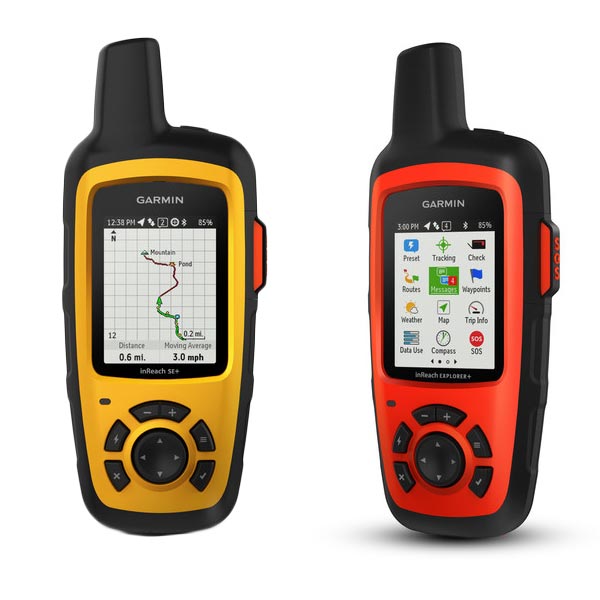 Garmin inReach SE+ and Explorer+:
Though we actively use the SPOT for many adventures, we also love and trust the Garmin inReach, our choice of Satellite Messenger for truly remote destinations. You may have heard of this one under its old brand name, DeLorme, which is now part of the Garmin family. The cool thing about the inReach is that it's a GPS that allows texting as you go, as well as emergency functions like the SPOT. The upside: You're connected all the time. The downside: You're connected all the time!
Here's what Garmin inReach has to say about their product:
"With inReach satellite technology from Garmin and a satellite subscription, you can stay in touch globally. You can send and receive messages, navigate your route, track and share your journey and, if necessary, trigger an SOS to get emergency help from a 24/7 global monitoring center via the 100% global Iridium® satellite network."
Upsides:
100% global Iridium satellite network means you'll stay connected with two-way messaging from land, sea or air, and it's purported to be more reliable than the GEOS Globalstar network.
Pair to your smartphone with Garmin's free Earthmate app for additional capabilities, easier typing of messages, and more.
The inReach Explorer+ device adds preloaded TOPO maps with onscreen GPS routing plus built-in digital compass, barometric altimeter and accelerometer.
Nice rubber grip around the edges makes for easier handling.
Great, rechargeable, built-in lithium-ion battery with a charging port.
Waterproof up to 1 meter.
Pay only for the months you use with the Freedom Plan, saving you money in the long-run.
Drawbacks:
With superior services, it's pricier initially, at $599AUD for the SE+ and $699AUD for the Explorer+.
A little on the bulky side.
The Iridium satellite system is still not as powerful as a PLB, and generally requires an open line of sight with the sky. That said, we've never had messages fail to send (and we've sent a lot of messages!).
Still not sure? Here's a bit more from Garmin themselves:
"As satellite communicators, both the inReach SE+ and Explorer+ offer identical messaging capabilities. However, it's on the GPS navigation side that their differences become apparent. While inReach SE+ uses GPS to provide basic grid navigation and allow you to drop waypoints, mark key locations, track your progress, and follow a breadcrumb trail back to base — the inReach Explorer+ goes a step beyond, providing full-fledged GPS on-map guidance with preloaded TOPO mapping and waypoint routings viewable directly on the unit. Plus, a built-in digital compass, barometric altimeter and accelerometer are included with Explorer+ to help you get and maintain accurate bearings on or off the beaten path."
Our thoughts? If you can afford a device that's a little more expensive initially, go for the Explorer+, our favourite of all.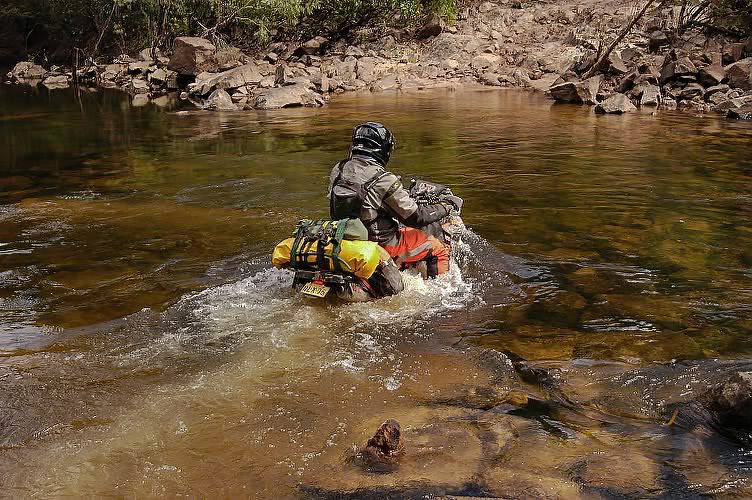 Photo supplied by I Gatenby for the Faces Of Klim Competition.
PLB (Personal Locator Beacon)
Personal Locator Beacons are made for land or water but are small enough to have in-hand (or attached to you) in case of an emergency. The most important differences between the SPOT or inReach, a PLB only sends out distress messages, allowing you to alert the proper authorities with your whereabouts anywhere in the world using the strong government-run Cospas-Sarsat, an "international, humanitarian satellite-based search and rescue system", says NASA.
Watch Tom Foster From Adventure Rider Magazine discuss the PLB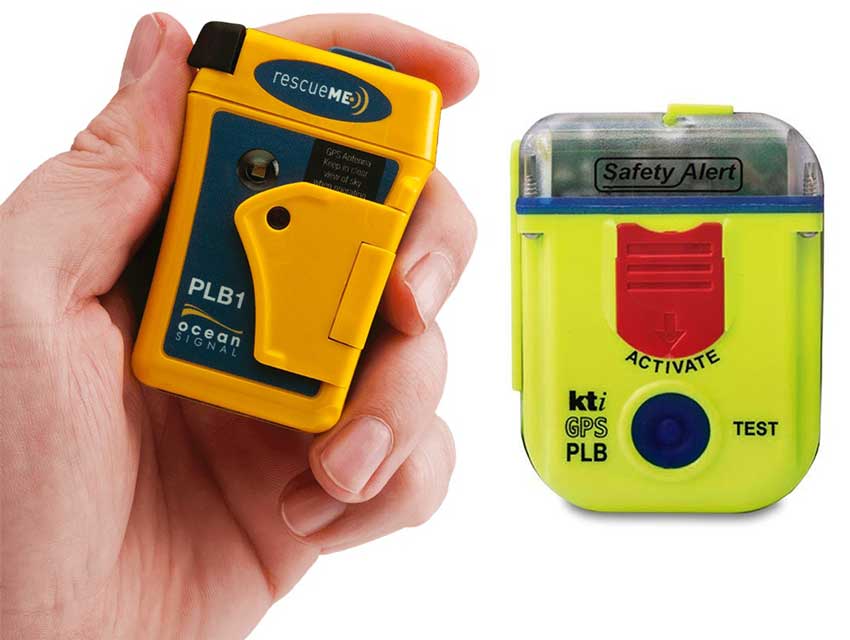 We recommend either the KTI Safety Alert PLB or the Ocean Signal RescueMe PLB1. A few key points on both:
PLBs use the 406MHZ transmission to send your GPS location to emergency responders Both can be used on water or on land.
Longer battery lives, at 7 to 10+ years.
Reasonably priced at only $299 for the KTI on Adventure Moto or $399 for the Ocean Signal RescueMe.
Both are waterproof and come with either internal flotation or a flotation pouch.
Cospas-Sarsat regulations mandate that all PLBs must transmit for a minimum of 24-48 hours depending on temperatures.
Generally more powerful than Satellite Messengers.
No subscription fees!
A Recap: Why You Need a Satellite Messenger or PLB In short?
Safety first! Or at least peace of mind for your family. With one of these, your mum/dad/hubby/Mrs/partner/kiddos/friends don't have to worry about you so much. They can track your location across that Outback ride you've always dreamt of, or they can even brag to their friends. "Look where my dad/mum is now!", pointing to your squiggly desert line on the map.
Are There Other Downsides?
Sure. For example, the number of people who use them for non-life threatening emergencies is getting ridiculous. We spoke with an old ranger in New Zealand who couldn't believe the number of times he was called in to help get someone out of the wilderness, only to find they'd just grown weary of the trail, had blisters, or got sick of carrying their own pack, so decided to press the SOS button. We spoke with a bush pilot in Tassie who said the same. So please remember: A Satellite Messenger or PLB's emergency function should never be used flippantly.
And then there are the more obvious downsides: another piece of gear to cart around, they're hard, and motorcyclists are perpetually arguing over where they should be carried, for safety reasons. Attached to the motorcycle itself, or to your body? Both have risks and benefits. For the SPOT device, Giant Loop sells a Tracker Packer harness mount for easy, safer mounting options.
Just remember that any of these devices may help save your hide, or at a minimum, bring some comfort to those waiting for you at home.
Check out all our favorite devices Adventure Moto carries: Garmin inReach SE+ and Explorer+ , KTI Safety Alert PLB, Ocean Signal RescueME PLB1 and the SPOT Gen3 GPS Satellite Messenger.
Safe travelling!
The Adventure Moto Team
---