A Guide to RotopaX: Fuel and Water Storage Solutions for Motorcycle Riders
Author: Team Adventuremoto Date Posted:21 March 2018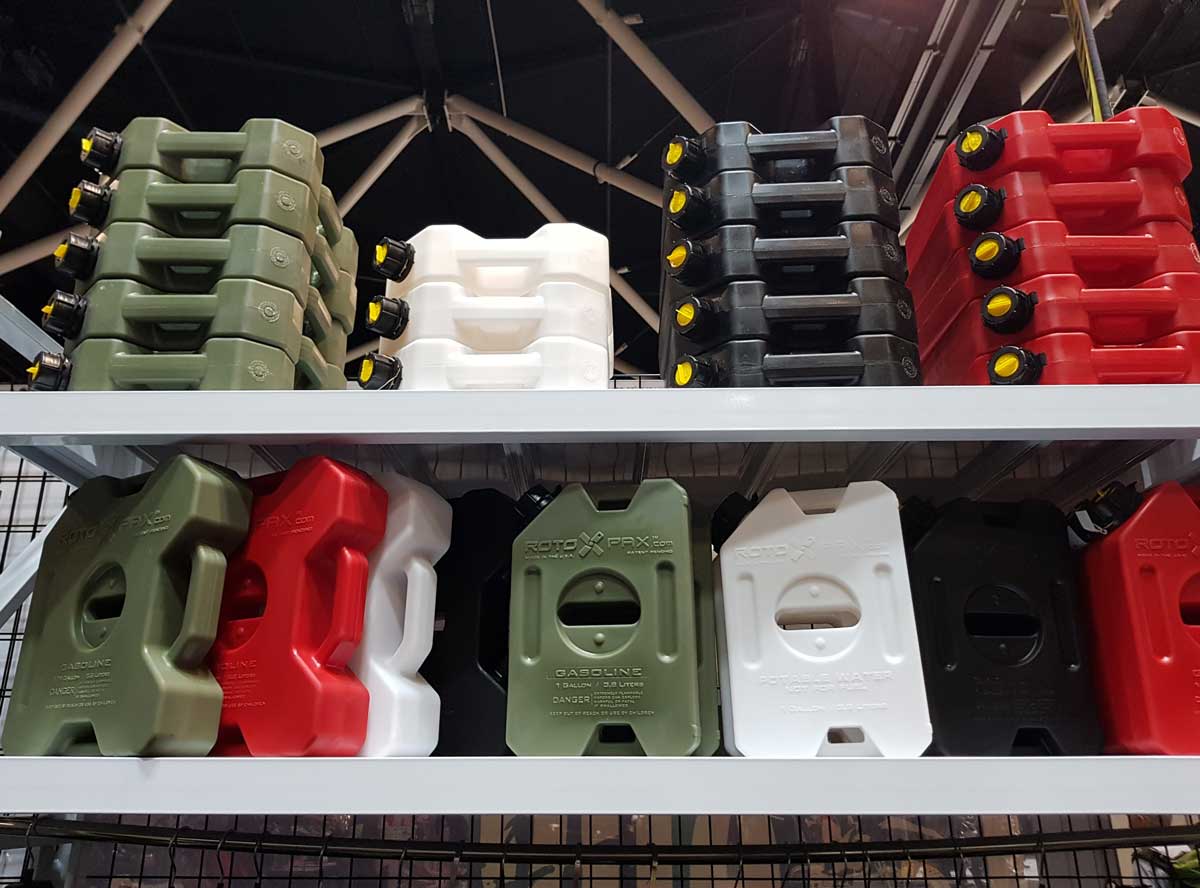 It's time to throw out your old jerry cans! RotopaX has revolutionised the fuel and water storage market with the most rugged containers designed specifically for people like you: the adventurous Australian overlander. And in a country where we love to hit the long lonely track, you can't get better than RotopaX. Their designs are crush resistant and leak proof, too, via a patented three-layer rotational moulding process and mounting options. Now, 4x4 vehicles, trailers, ATVs and motorcycle riders can easily mount petrol and water securely to their rigs, even while exploring the toughest terrain in Australia. If you're planning a trip with limited fuel and water options, check out our Rotopax guide to help get you set on your next adventure.
Your Fuel and Water Carrying Solution
RotopaX manufactures their containers to exceed the U.S. Environmental Protection Agency and California Air and Research Board requirements, making RotopaX the only EPA and CARB compliant containers available today. Their patented designs make for exceptionally tough containers, letting you adventure into the unknown in safe hands. RotopaX designs all their containers to be sturdily mounted to any flat surface, so you don't have to worry about your containers jostling free on those long Australian dirt tracks.
Why the Different Colours?
Government regulations require all fuel containers to be sold with colour specifications, and RotopaX has made it easy by clearly labelling their containers. For example, red holds petrol while white holds potable water. Adventure Moto is now offering Limited Edition containers in olive and black for fuel.
Choosing the Right Size
Choosing the right size container is an important task, and it's always better to have too much than too little, especially in our big Australian expanses. Fuel containers come in a large range of sizes from 3.8 to 15 litres, and water containers in 3.8, 6.6 and 7.6 litres. Make sure to calculate your fuel needs beforehand, and plan to carry enough fuel and water to get you through the most remote stretches you have planned, plus extra in case of an unexpected or emergency detour.
Don't skimp on water. A common rule of thumb in isolated areas is to carry at least 4 litres of water per person per day in the white potable water containers (more for hot areas) and make sure you have extra in case of any delays. Though you can go a long time without food, you won't get far without water! An added bonus for shorter trips? RotopaX water containers are freezable, so you can enjoy cold water all day long!
Mounting Your RotopaX
RotopaX containers are designed to be mounted to any flat surface, horizontally or vertically. Though some customers choose to design and make their own mounting brackets, we sell a variety of mounting solutions to make mounting to motorcycles, ATVs, frames and trailer walls easy. Once you've calculated your fuel or water needs and how many containers you'll require, and at what size, you can decide on which mounting solutions will work best for you. Do you need single mounts for the sides of your bike, or for the back rack, or do you prefer a double mount for your ATV or 4x4?
PAX Mounts and T-Handles
RotopaX PAX Mounts are the components that the containers get fitted onto, and what help secure containers down to their respective mounting plates. They're engineered to be tough, using hardened anodized aluminium and B7 Allthread for max strength.
There are a few mounting choices:
The basic mount has one T-handle at the top that gets cranked down and tightens against the container.
The DLX Mount with two T-handles (one on top of the other) offers a more secure option: The bottom handle gets tightened down first, and the second tightens on top for maximum tightening power.
If security might be an issue, the LOX Pack Mount is a good choice and is similar to the DLX except it has a locking mechanism which comes with two keys to quickly and securely lock your container in place. Note: The LOX locks just one single container, and shouldn't be used for double-stacked containers as the top container can be twisted off.
Rotopax Extensions
Use extensions to double stack containers with the basic Pack Mount or the DLX Pack Mount (not the LOX Pack Mount). Triple stacking isn't recommended as the extensions can snap with the added weight. Double stacking easily allows you to stack your fuel and water containers on the rack of your motorcycle, on your ATV, or to a wall of your 4x4. Note that the extension size needs to match up with the container you'll have on the bottom of the setup. For example, if your 11-litre container will be on the bottom and your 3.8 on the top, make sure your extension is the one made to fit the 11-litre container.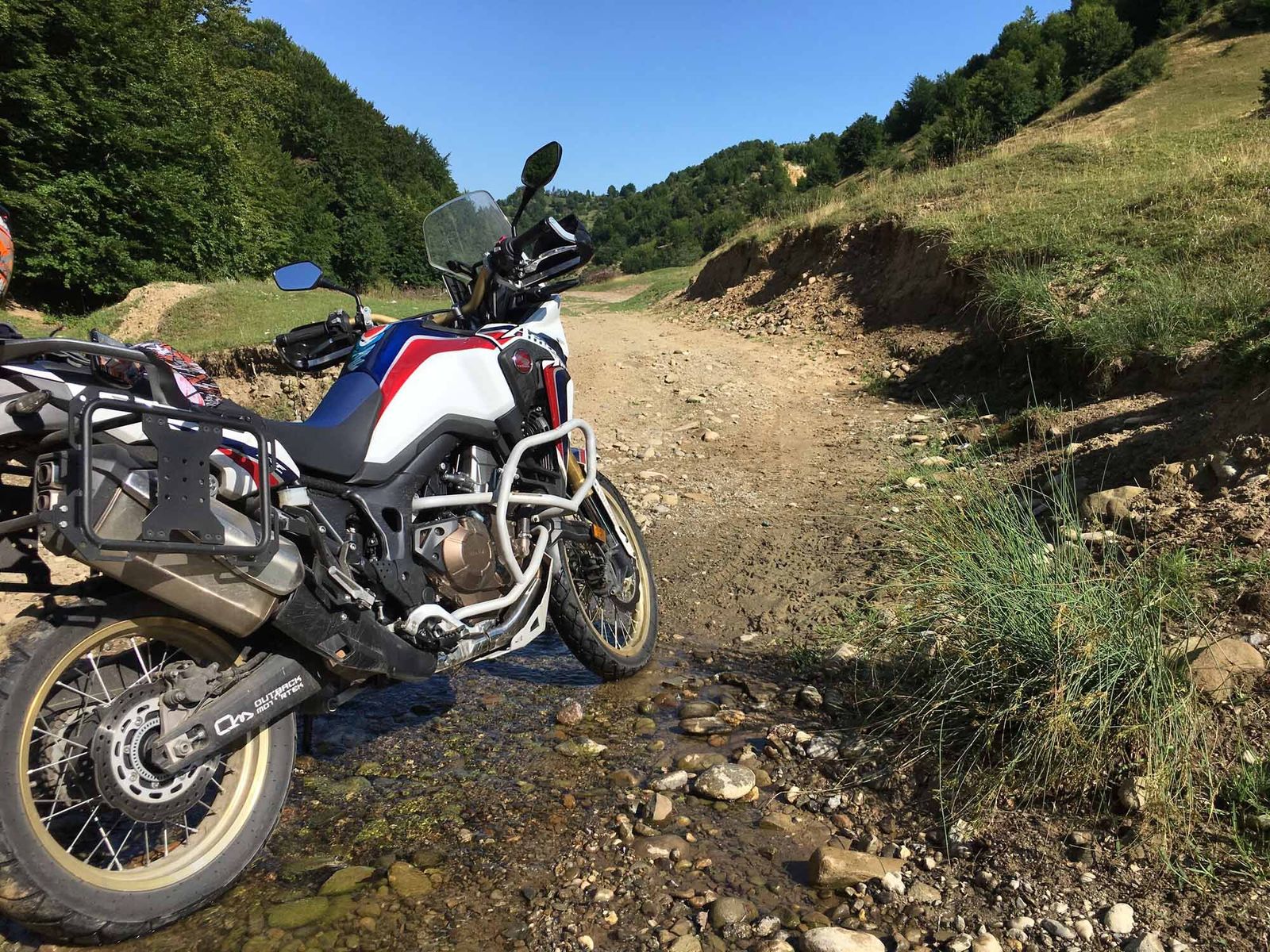 X-Frames - The Universal Motorcycle Pannier Racks
Adventure Moto and Outback Motortek have teamed up to bring you the new X-Frames, the most universal and functional side pannier frames on the market today. These frames allow you to secure soft luggage, hard panniers or RotopaX containers vertically on your motorcycle, with a variety of mounting positions so you can customize the weight distribution. They are available for a wide variety of bikes and even allow you to remove the X-Bracket from the frames to reduce weight when you've swapped your RotopaX containers for a luggage system. The X-Frames give you far more versatility than any other motorcycle frames to date!
Storage Containers
Adventure Moto also carries the 7.56-litre RotoPax storage and emergency containers. The storage container is a great way to carry all manner of smaller items, from your snacks, lunch and accessories to a set of dry clothes. The empty First Aid and Preparedness container or the Road and Trail Emergency storage pack are clearly labelled and come in bright orange to be easily seen and are ready to be packed with all your emergency items. We recommend packaging everything in waterproof containers beforehand, especially if you're planning on any river crossings or truly wet or dusty conditions.
RotopaX Eco Spout
RotopaX has invented a new and improved ECO Spout, which is now leak-proof, spill-proof, child-proof, and meets all of the United State's EPA and C.A.R.B requirements. The spout kit includes a black and green self-venting spout with a rubber gasket and stopper. Though it can be a bit tricky to open at first, there are some great videos demonstrating how best to handle them while pouring.
Questions?
Give Adventure Moto a ring at (02) 9651 3355, and we'll do our best to help answer all your questions!