Australian KLIM Ambassador Ryan Peterson
Author: Team Adventuremoto Date Posted:10 January 2018

Australian rider Ryan Peterson rides terrain most of us would struggle to walk up. And he makes it look easy… We've caught up with Ryan, a young NSW native based on the south coast, to find out what life as an extreme off-road motorcyclist looks like, and what we can learn from his experiences.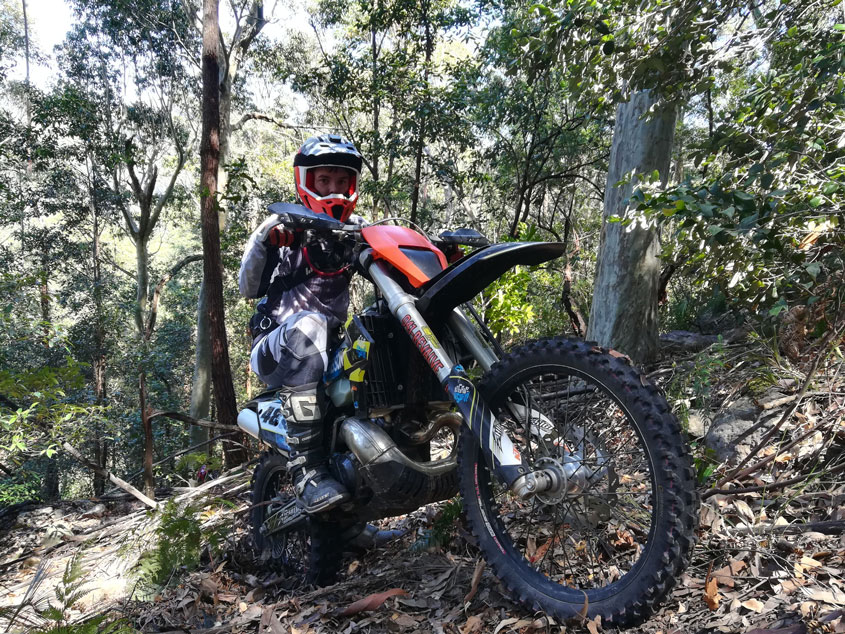 Ryan, can you tell us a bit about yourself, and how you got into riding in the first place?
I first started riding when I was 4 years old on my sister's PW50 and loved it. From the PW50 I moved onto a PW80, XR80, TTR125 and then when I was 11 years old my dad bought me a 2006 YZ125. Learning to ride a full sized bike at 11 was a challenge in itself, but it made me a better rider for it. Not being able to touch the ground, I struggled to ride a 125 MX bike in the bush, but that's when I caught the 'dirt bike bug'.
At 13 I picked up a job flipping burgers in a takeaway shop to start saving to buy a new bike, which would be my most treasured motorcycle, a 2011 KTM 200 EXC, with more power, and suspension that actually worked. I started to acquire a taste for technical terrain. In December of 2014, I did a two-day Chris Birch course which changed my riding massively.
After spending more time honing the new skills I had obtained, I started looking for harder and harder terrain to ride and I soon realised I needed an electric start as kicking the bike became impossible in some situations. In 2015 with lots of saving done, I was able to buy a brand new 2015 KTM 250 EXC. Riding on fresh wheels, I rode more and more and my skills improved, and I started racing.
My first race was an 8-hour' pony express' at my local club. In my dad's words, "Only softies enter in pairs" so a few days after turning 16 I entered Ironman in the 8 hours where I finished 3rd in the class. Although after the race I was in ruins, I really enjoyed it. My next race was the 2016 Transmoto 12 hour where again I entered an Ironman. I didn't have any time to prepare for the 12 hour as I got a spot just 3 days before the race as another rider pulled out due to injury. After 12 gruelling hours, I finished in 7th place from 18 participants in the class. I started entering more and more Ironman events which massively improved my ability and endurance, both physically and mentally. Now, I'm 18 years old and just finished my HSC while working at a pizza shop. With my dad, I'm riding 2-3 times a week preparing to take on Red Bull Romaniacs in 2018.
What have been some of your greatest accomplishments so far—your proudest moments?
My greatest accomplishments would have to be the 2017 Transmoto 12 hour or the local 8 hours. For the 12 hours I put in a lot of training on and off the bike to improve my endurance and it was satisfying to finish in 5th place in a field of 12 riders who had entered and finished in the event before. 1st to 4th was in a league of their own but I've been putting a lot of practice in, so I can get up the pointy end and hopefully podium. In the local race, I fell off on the first lap and dislocated my right shoulder, but it popped back in once I tried to move it. I continued the race through the pain to finish in 2nd place.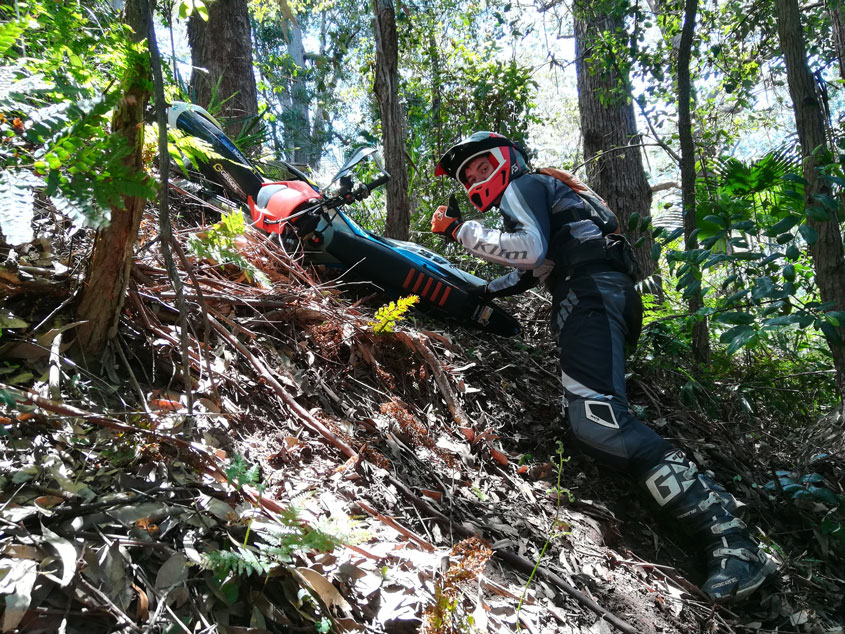 We've seen your training videos, and they look pretty extreme! What's a typical training day look like for you?
Some days I'll ride nonstop for three and a half hours of difficult tracks with a mate who is of similar speed, which is a really good workout. Some days I practise on a hill over and over again, training to improve my technique and trying harder lines or even finding new obstacles to practice on. Other days I will change it up and ride fast terrain all day trying to improve my speed and be as well-rounded as possible. I also do off-the-bike training, which usually involves mountain bike riding and rowing.
Clearly, you've got a pretty serious handle on this whole off-road riding biz. What advice can you give to newbies looking to expand their riding skills and expertise?
Practice and practice. Ride with only 1 or 2 other riders and who are of your skill level or above, as this will help you greatly to be pushed by the others, but also keeping it fun. Slowing down and thinking about what you're doing, figuring out what does and doesn't work will help you improve as it allows you to hone your technique. Learn to ride slowly before you ride fast.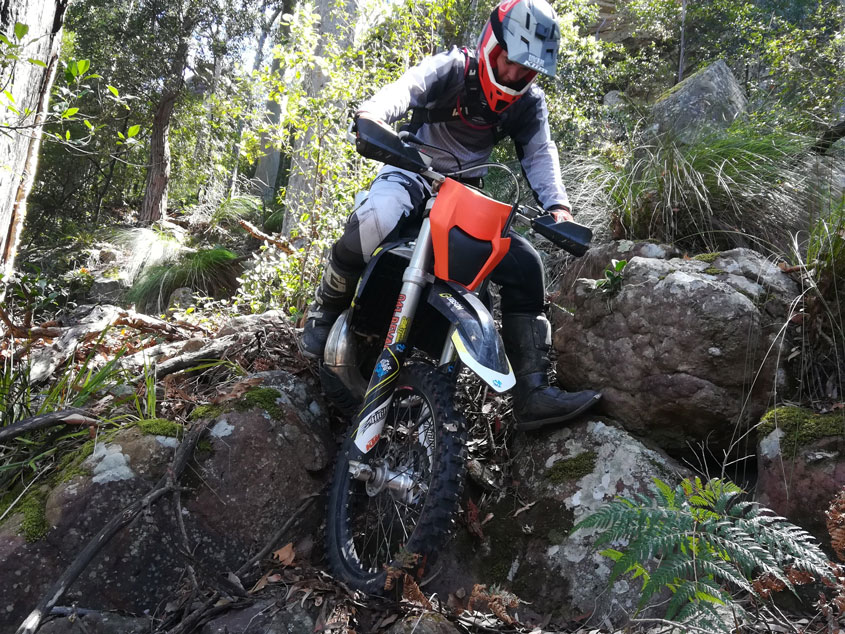 What are the most important items in your kit—those 'can't ride without 'em' pieces of gear?
Besides the bike, the most important bit of gear is what I'm wearing, which is why I choose to ride in KLIM apparel. The gear is made and designed by riders so they understand what is required in the design and construction. The gear has to last, be comfortable, protective and keep me as cool as possible. KLIM ticks all the boxes, so for Adventure Moto to support me with KLIM gear is a perfect match.
What bikes are in your shed at the moment, and what are some of your favourites?
I have my 2017 KTM 250 EXC with 130 hours on it and a friend's Sherco 290 trials bike which he was kind enough to lend to me. I'm really happy with the 250 EXC set-up at the moment, but my all-time favourite would be my 2011 KTM 200 EXC. The 250 does everything better than the 200 but I still have a soft spot for it. It's been the most fun to ride!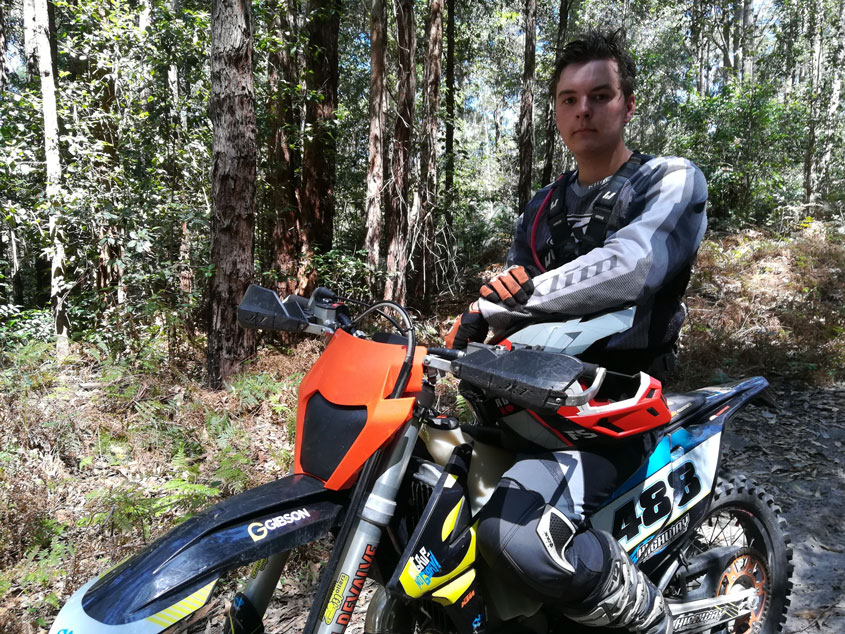 How can the Australian riding community help support you in your riding career?
More sponsors would be great. Riding so many hours takes its toll on the bike! Replacing parts becomes really expensive, but that's dirt bike riding and I'm really very thankful for those that already support me. Jump on to adventuremoto.com.au and buy one of my jumpers, caps or t-shirts to help get me to Romaniacs, or get on Facebook and give my page Ryan Peterson-365 Hard Enduro a 'like' and share. You'll get to see lots of dirt bike related content, and any support is greatly appreciated!