2018 Woman's Ride Lithgow Yamaha BLU CRU RideADV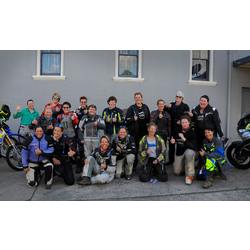 Women Adventure Riders and the Yamaha WR250: A Weekend of Fun
Ever dreamt of spending a whole weekend riding and connecting with your ADV gal-pals and having ridiculous fun testing new dual sports bikes and your own skills on varying terrain? This is exactly what went on during the Australian Women's Adventure ride supported by the bLU cRu and hosted by the Ride ADV team. An impressive number of adventure-thirsty women flocked to the event to try out their bikes and riding ability and forge new friendships in the process.
Although lots of women turned up on big adventure motorcycles, Yamaha WR250 was a popular choice among many – and those who tried it for the first time were left fascinated by the little blue powerhouse. "A few of the women arrived on larger capacity adventure bikes, but once they saw how light and nimble the WR250R was, they were keen to learn more about getting aboard one for the next ride,"- event organizer Greg Yager from Ride ADV said. According to Greg, the WR250 was one of the most popular choices in the event, making up a significant percentage in the field.
As the interest in adventure riding is developing at a quick pace among female motorcyclists, there is an ever-growing demand for light, affordable and reliable bikes that can take a beating off-road but be light and compact enough at the same time. According to Yamaha, the WR250 is a great motorcycle for this type of riding and events as was seen during the Australian Women's Adventure ride.
"Models like WR250R are key to opening up the growing market segment of female dirt bike riders. The women who participated in this event felt they could ride at their own pace and build confidence in a supportive environment. This is an area that the bLU cRU will be focusing more on in the future," - Yamaha's Marketing Manager Sean Goldhawk added.
Intrigued? Be sure not to miss the next bLU cRU RideADV event which will be held 8- 10 March 2019 at Wauchope on the NSW mid north coast. Women riders with all skill levels and all brands of adventure and off-road motorcycles are welcome!
More information: RideADV