Tara's Ride to Kick Cancer
Author: Team Adventure Moto Date Posted:13 November 2019

RideADV participant swaps hospital bed for WR250R motorcycle
Yamaha's bLU cRU partners, RideADV, recently took a spare WR250R motorcycle to Bright, VIC in preparation for their popular all women's ride.
The spare bike was for Tara Sanders, an Albury, NSW based adventure rider who was recently diagnosed with a rare and aggressive breast cancer. RideADV honcho Greg Yager shares, "We had promised her a free loan WR250R and free ride six months ago, if she was well enough to participate."
Tara finished her last cancer treatment 10 days before the ride and was given the all clear by her oncologist. She rode both days and brought the RideADV crew to tears when she explained what it meant to her to be able to participate.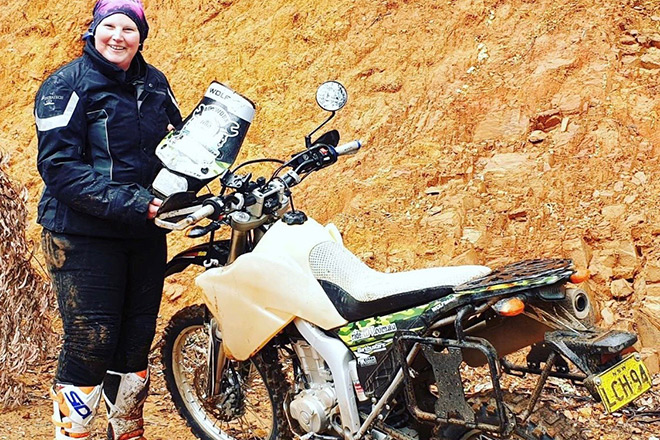 Cancer survivor Tara Sanders takes to the trails as therapy against the dreaded disease
"I was sick for six months through the chemo treatment," explains Tara. "And I had a bad reaction to the steroids that meant I put on 20 kg and my general health and fitness were poor. Several times, I tried to go on a road ride and just the effort of putting on my riding gear was enough to exhaust me and to cancel my riding plans. But my oncologist recommended I do things that make me happy, so I focused on getting to the RideADV Women's Only ride in October."
"Because I live locally, I decided to get to Bright and see how I felt. If I wasn't up to the ride I would go to the dinner anyway. They're a great bunch of women and I knew it would be fun. Plus, Greg (Yager) was in touch the whole time and I felt like part of the RideADV family. So any riding was really going to be a bonus for me."
Joined by a dozen ADV-loving women, Tara made the ride and tackled all the regular obstacles, including winding tracks, ruts, rocky hill climbs, causeways, steep descents and ascents, and creek crossings.


RideADV women-only participants prepare to tackle the VIC High Country
Yamaha ambassador Stephen Gall joined the crew for the two days and provided rider training at all the obstacles. Gall's professionalism and ability to explain and demonstrate all aspects of riding proved extremely popular with the group. "Over the two day ride, we offered riders the chance to spend trail time on RideADV WR250Rs, and once again everyone came away super impressed," says RideADV's Greg Yager, who has committed to building Tara a new WR250R at the RideADV workshop when she finally kicks the disease.
Tara's already looking forward to the next RideADV Women's Only Ride, and shared some good news. "The outlook is pretty good," says Tara. "I'm due to undergo some minor surgery followed by some radiation, but it's all looking pretty positive."
We're looking forward to seeing Tara on the trail again, and the rest of the group during the 2020 ride!
Not sure what you're missing? Learn more about RideADV, and mark your calendars for a great 2020 riding season.
---
Comments (1)
Sweet

By:

Andrew

on 5 June 2020

Hi there just read this blog it touched me as I have one of my sisters who had breast cancer 2years ago shes on the mend now which is great for her and her family and our family Judt wanted say keep going and you beat it I hope you recover and go on the ride and you have a blast Anyway that's my 2 cents worth take care and ride safe
---
Leave a comment