The 2018 Scrapheap Adventure Ride
Author: Team Adventuremoto Date Posted:22 October 2018

Well it's official, the 2018 Scrapheap Adventure Challenge has come to a happy culmination, bolts rattling and parts flying, but with even more funds raised for Down Syndrome NSW. What an adventure. And while we followed the journey on Facebook, we wanted to get the inside scoop from Perry Gilsenan himself, organiser and Head Scrapper since 2010 of this fantastic and worthy event.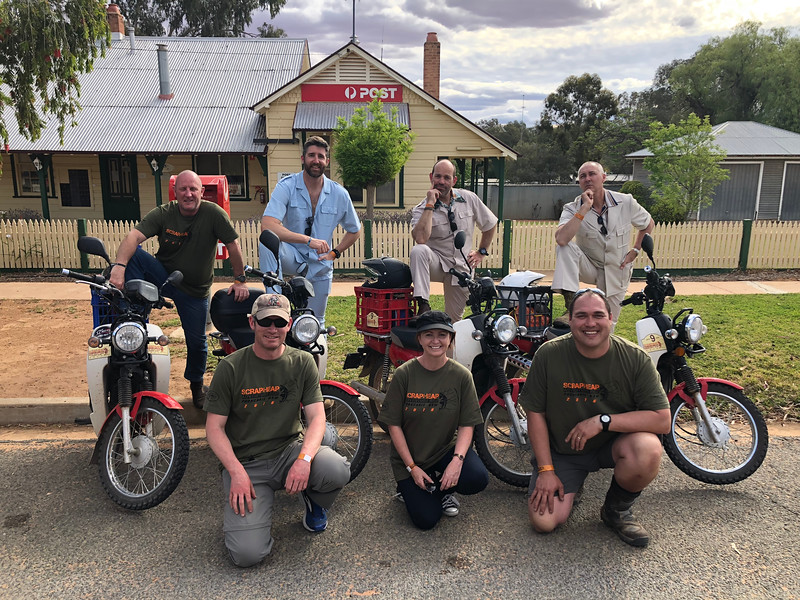 We have to ask: How did this idea get off the ground, Perry?
I was chatting with OldDog AKA Bill Wilkin on Advrider suggesting a silly ride dragging old bikes (under $500) out of the sheds, getting them running and riding somewhere to see if we could get there. We thought Wanaaring might be a good challenge. Decided to do it not only as a fun-raiser but also a fundraiser. As I have a daughter, Grace, who has Down Syndrome, I decided to support Down Syndrome NSW to help raise awareness and funds.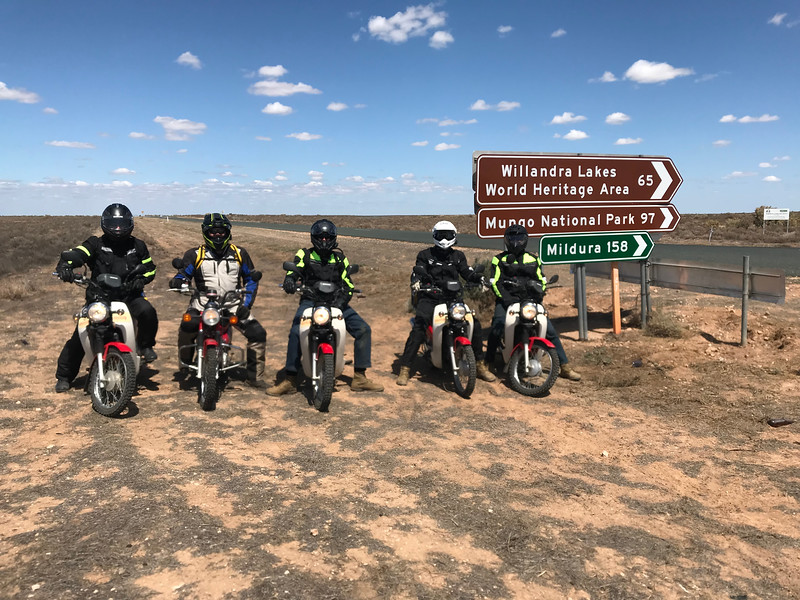 What was the inaugural Scrapheap rally like? Any lessons learned?
First Scrapheap went to Wanaaring and we had 14 riders from all over NSW, Queensland, Victoria and South Australia. It was a simple affair at the Wanaaring Pub and we had to reroute due to flooding on the Paroo River, via Whitecliffs. We raised $22,000 for Down Syndrome NSW that first year. No sooner had we got home, we were asked where to next year. 50+ went to Cameron Corner with over $50,000 raised. It continues to grow each year.
2010 Wanaaring, 2011 Cameron Corner, 2012 Kosciuszko, 2013 Back O' Bourke. 2014 Nymboida, 2015 Urana, 2016 Tilpa – diverted to Nymagee, 2017 Tingha, 2018 Pooncarie, 2019 Byron Bay.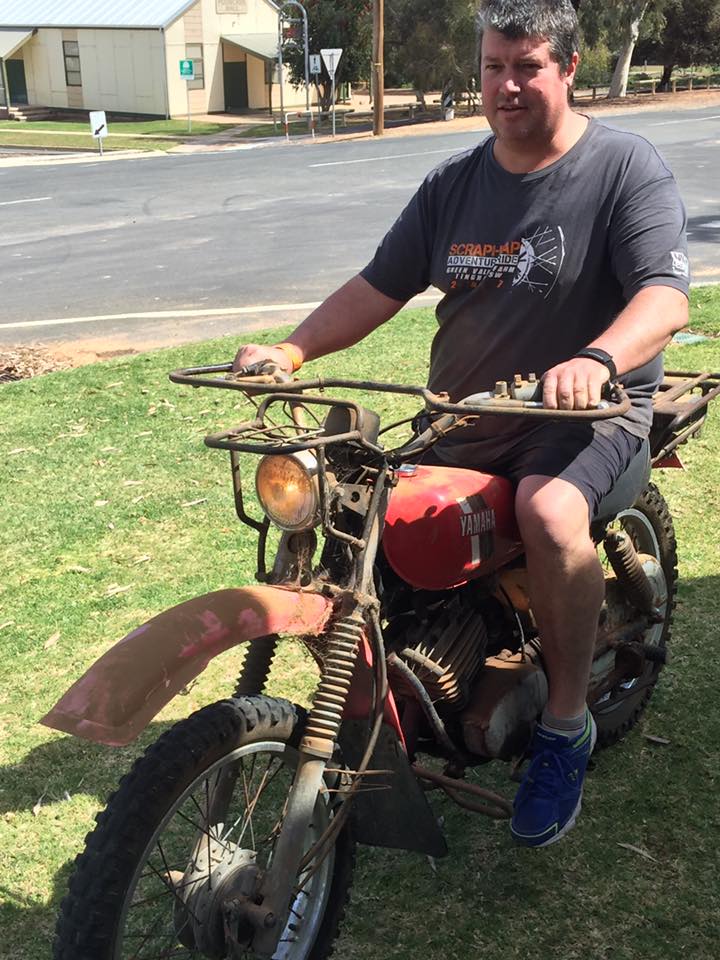 How has it changed or evolved over the last 8 years?
Apart from raising awareness, our main aim is to make it a fun event. We don't take ourselves (or much) too seriously. Now we get over 100 riders regularly and finding locations that are an adventure and can cater up to 150 people out to dinner is getting harder. We want to bless the towns we visit as well. We get Scrappers who, once they come along, keep coming back and many have been to 4 or more Scrapheaps. Only one family, the Thompsons, have been to all 9.
Tell us about a bit about this year's ride. Who had the most memorable bike(s)?
This year we went to Pooncarie, southwestern NSW. To say we are getting a reputation as being drought-breakers is not too far from reality. We saw substantial rains fall across the Southwest of the state and had to take the tar. Disappointing for us but great for the farmers. As for bikes, the Best Scrapper this year was ridden by Matthew Dingle – an old VT250 with 16" road tyre on the front and it went places that bike should never have gone. Epic effort. Then there was the XV750 Yamaha with an XR200 chassis grafted over the top. A lot of old Ag/trail bikes and a few roadies made up the field this year. Many were rattly before they even left home! Some have already begun their builds for Scrapheap 10, with rumours of adventure choppers in the mix.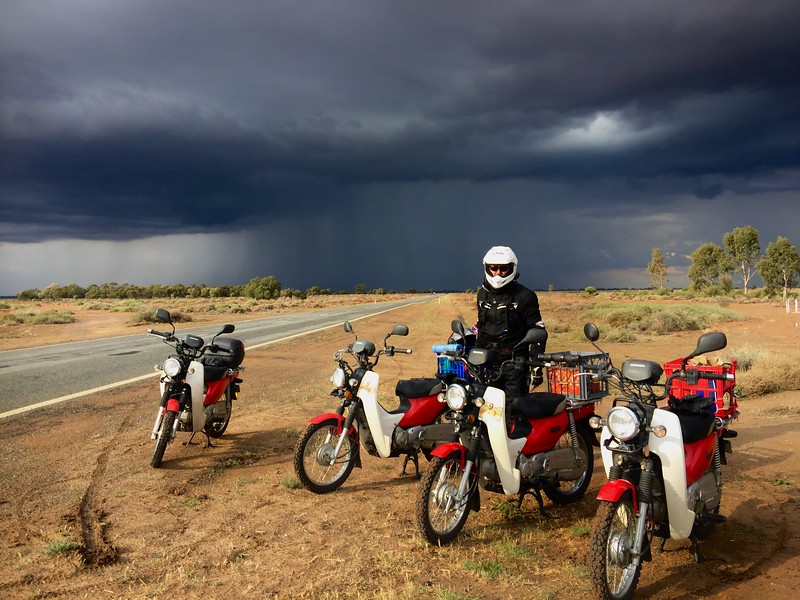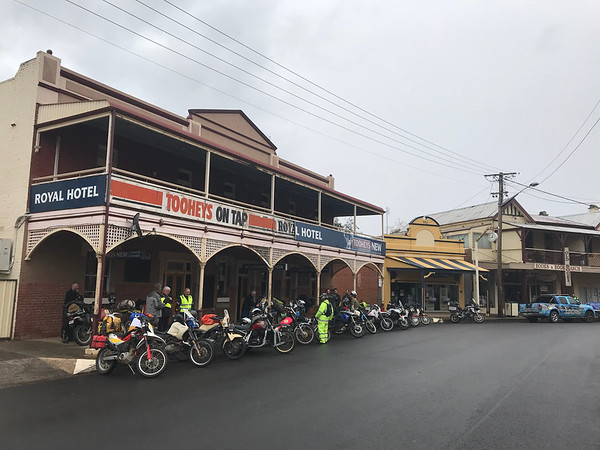 What was the route this year, and does it change? Who picks?
Scrapheap does a ride with the support of Adventure Moto each year, which caters to varying skills and abilities. Warren Sakey, who rides his old Kawasaki GT750 with 870,000 km and which he has owned since new, plans our rides and does an awesome job leading the ride and arranging sweep riders. Sometimes it's like herding cats. But all have gone off very well. With rain and road closures we had to reroute via Hay and tar to Pooncarie on day 2 and 3. Everyone went in all directions heading home as the dirt roads started to open up.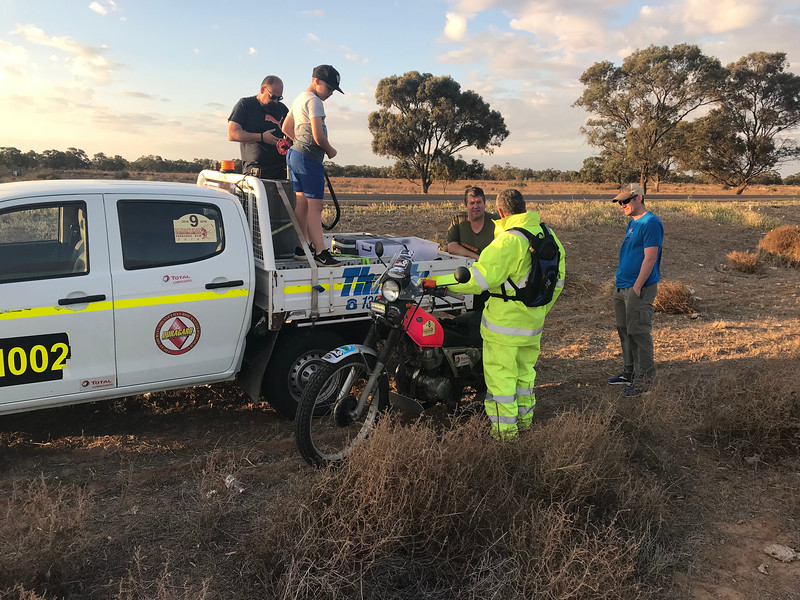 What kind of support is given to riders along the route?
There are support vehicles with most of the teams and with the Adventure Moto Ride we have 3 support vehicles and trailers, including a 44 gallon drum of 95 Octane donated by Ampol to cover any issues. It was sold to those who needed fuel and the $2 per litre was donated to the event. The vehicles and trailers were used for a number of bikes that failed to finish and were transported back to Sydney. That happens with Scrapheap while using old clunkers.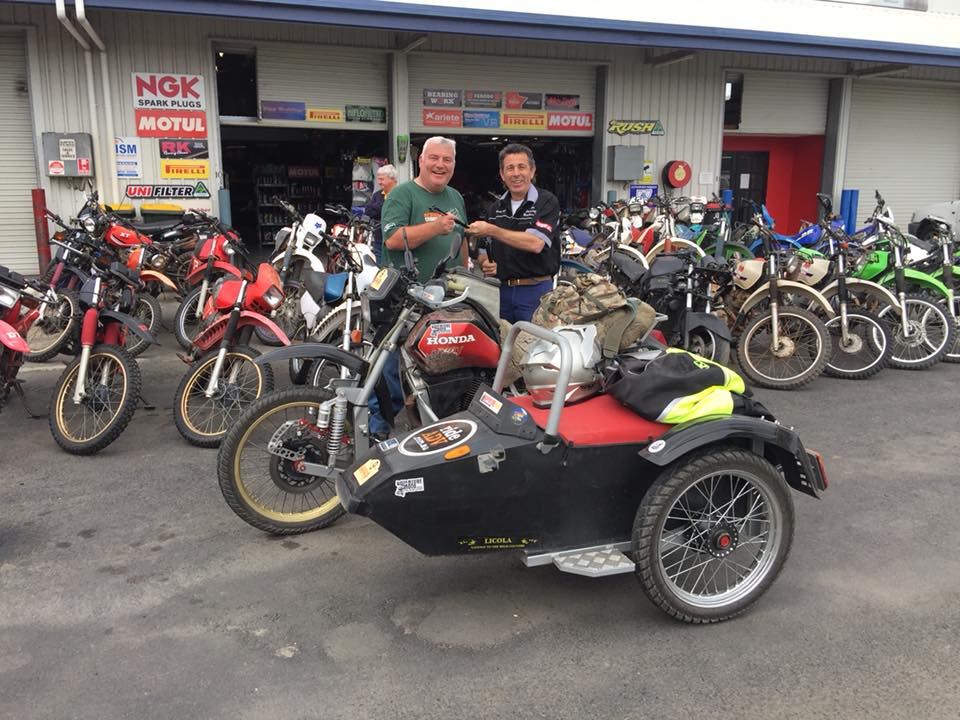 We know you did up Steve's motorcycle sidecar. Can you spec the build a bit for us?
Started with an old 1985 XLV750 Steve had acquired a few years beforehand. It was pretty tired. Internet searches found parts could be a bit scarce on the ground. Found a fellow in Germany who had some oversize pistons and head gaskets made, so it was a full engine rebuild. Then the fuel tank was very much worse for wear. The bike and badly deformed tank went to Ian Lovell of Servalloy in Queensland who performed a miracle and rebuilt the fuel tank. The bike then went to Melbourne for Geoff Boekenstein to custom build the leading link front end and sidecar. The chassis ran inboard shocks for the sidecar swingarm and torsion sway bar setup. It handled well and was very stable at 100 kph on the rough roads out west. It certainly generated a lot of interest everywhere it went along with multiple laps around the campground giving people with Down Syndrome and other young kids jo rides. All came back with very big smiles.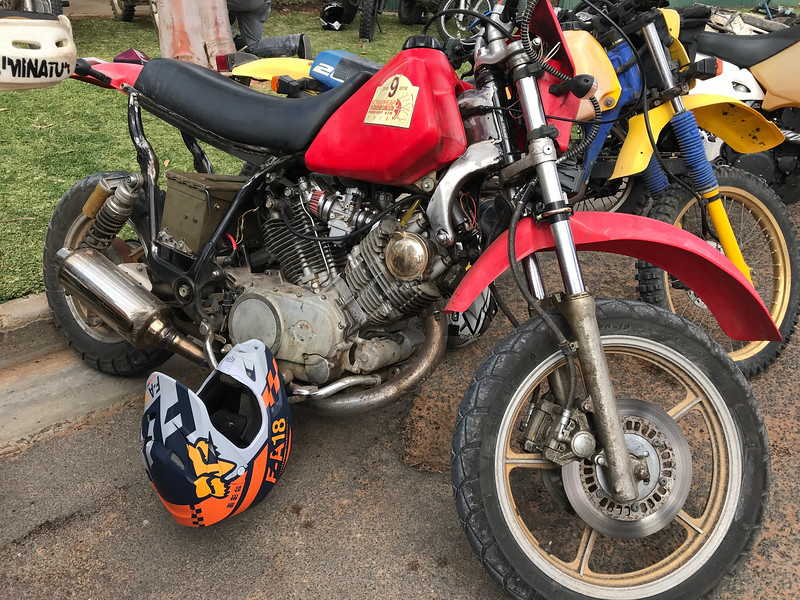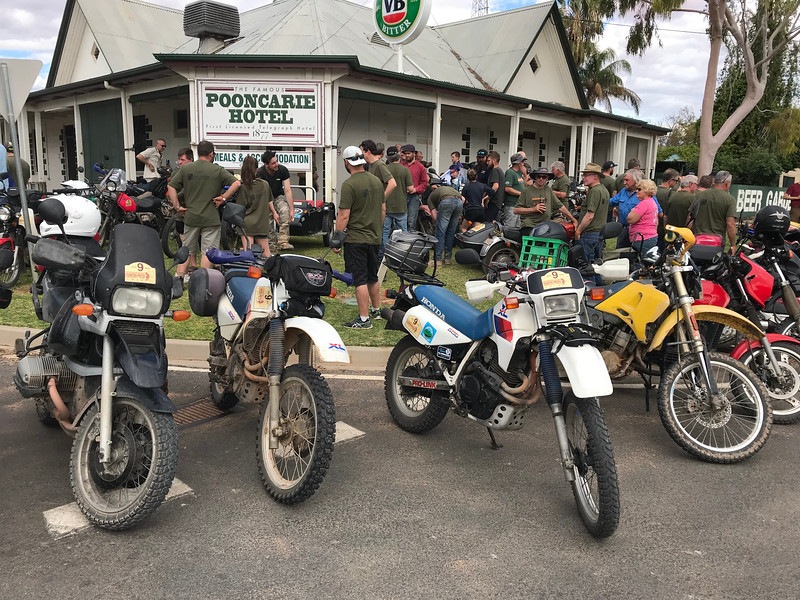 Let's hear about your rides?
My first Scrapper was an old CB400/4 converted into an XR460/4. It had a rough start in the first few years but by Scrapheap 3 it was running loud and sweetly. Last year I rode an old Suzuki RV125 with a PE175 motor and a quad wheel in the back for traction purposes. It went well until the expansion chamber blew apart.
This year I rode Steve's XLV750 sidecar. I helped Steve get it mostly built a few years ago by Geoff, aka Grumpy, in Victoria, who sadly passed away. It wasn't finished and was in Steve's storage unit a bit unloved. I suggested to Steve that we drag it out, finish it and get it engineered and I would ride it this year. Steve was very supportive and basically it was completed in 4 weeks. Matt Shippard sorted the fuel system. As it was registered only 5 days prior to departure, the first real ride was Day 1.
Only issue was a discarded exhaust pipe, which was found 45 minutes later just off the side of the road. Had to jury-rig it to get to The Motorcycle Wreckers, a shop in North Richmond. Mark Collins donated some new exhaust springs. Apart from that it ran like a train; a loud train.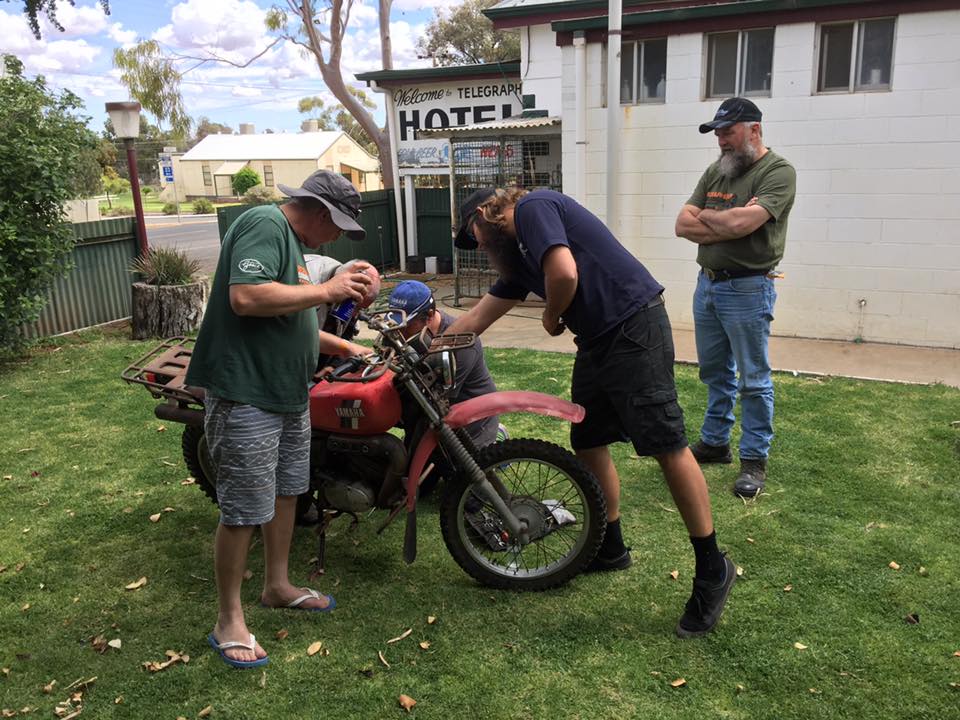 Any good stories to share from this year's ride?
There were many and as groups travelled on different routes all had to divert. Some were at Menindee Lakes when rain started to fall and they had to pack up late at night to get out before the black soil and clay roads were impassable. Lots of messages and sharing of information. The teams from Inverell, Armidale and Bingara were all navigating the road closures coming down from the North. Great camaraderie and all keeping tabs on one another. A small number thought they would try their luck and explore the local muddy roads and head to Menindee on Saturday. One small group made it through but the road was closed and had to head to Broken Hill and back down to Wentworth and back up to Pooncarie and missed the Saturday night dinner.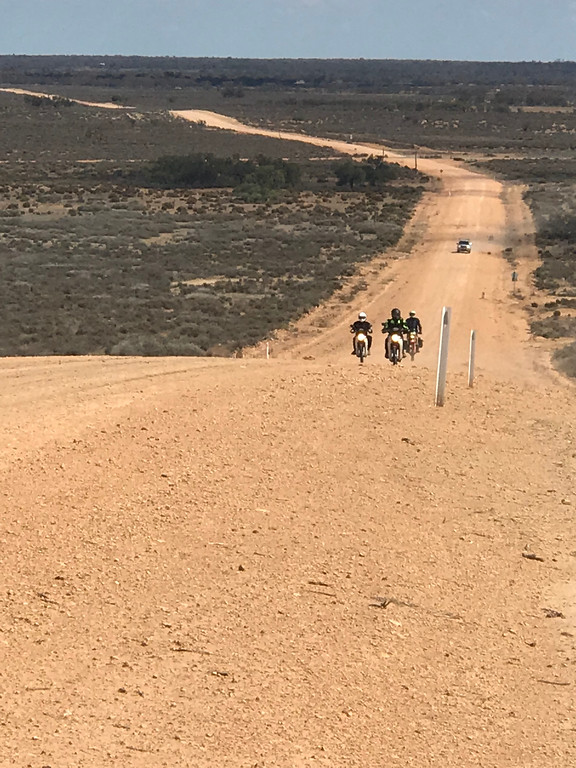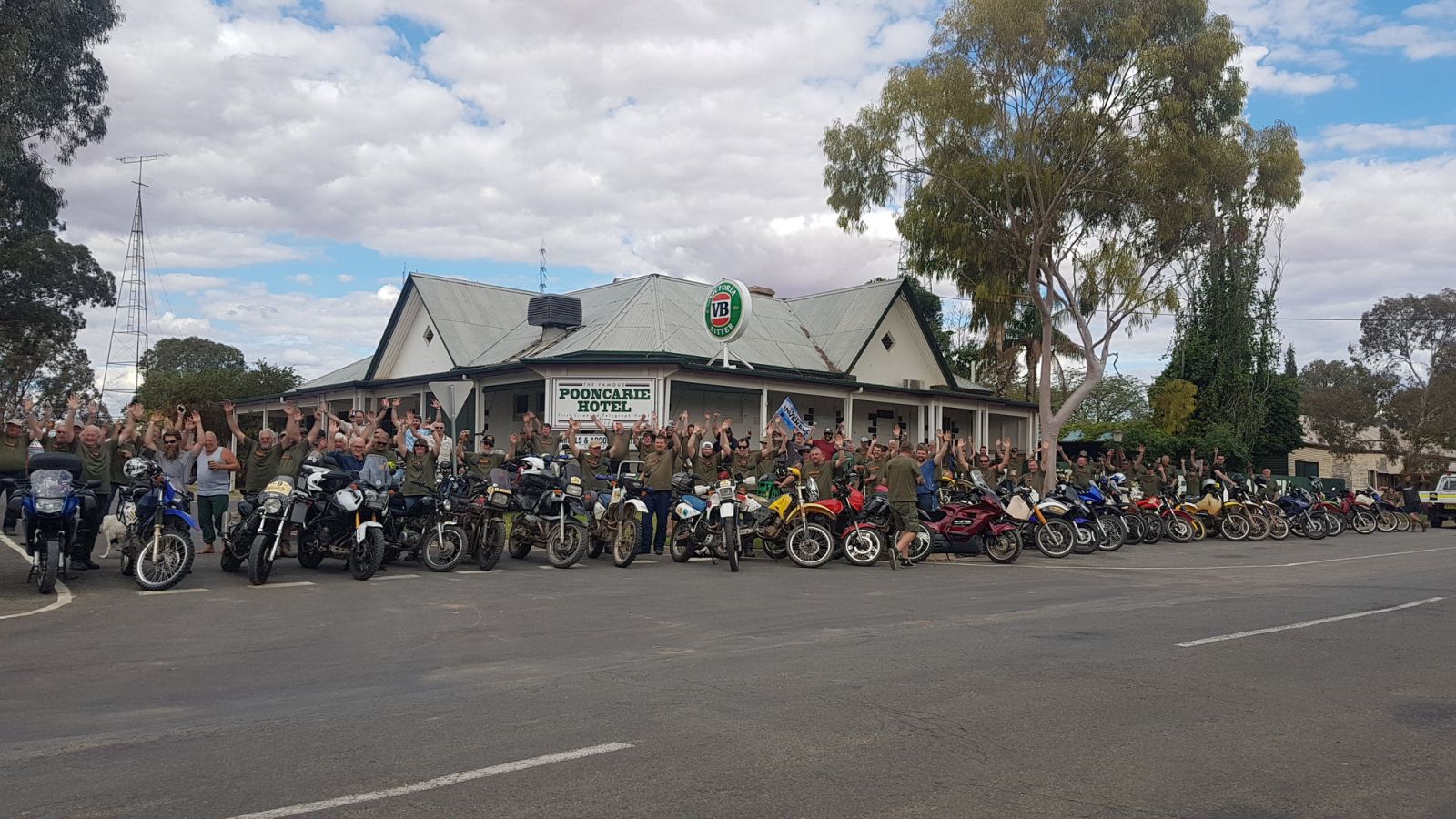 What are you hoping for in the years to come, and how can the community support this cause?
Our main focuses are raising awareness and funds for the Down Syndrome Association. It's been humbling to see the passion and commitment of the riders and people who support what we are trying to do. This year's biggest team fundraiser – Team Molly Moo from Armidale – raised over $11,000 of the $79,000 total! Team Inverell was close behind. Bruce Sharpe from Comeroo Camel Station - Bourke was the single individual to raise the most, at over $5,000. The involvement of the UpClub, young adults with Down Syndrome, is greatly appreciated by all and there are always big smiles as riders and UpClubers meet each year.
We have new families with children with Down Syndrome who come along each year as we celebrate these special people! On my trip home I had the opportunity on two separate occasions in both Goolgowi and Ungarie to talk with families of people with Down Syndrome. One had a 4 year old daughter and another a 14 month old granddaughter. It was great to be able to share with them what we are trying to do through Scrapheap.
Next year we are working towards Byron Bay as the venue and it is looking like it'll be even bigger. Lots to plan and organise but the joy this event brings to those involved makes it all worthwhile.
Want to learn more, donate, or interested in joining the 2019 ride? Find out more at Scrapheap Adventure Ride or follow them on Facebook.