Buying an adventure motorcycle helmet online
Author: Lance Turnley Date Posted:13 July 2022

I've lost count of the number of helmets I've bought over the years. For me it's pretty stressful but the rule of thumb is you should buy the best helmet you can afford and secondly, don't rush the process. I once bought a Fox V3 motocross helmet in a hurry while travelling interstate. Threw it on, felt fine, nice and firm, that'll do,then had to catch a plane – pronto. The following day, after 30 minutes of wearing it, the pressure on my forehead was excruciating and as a result $500 was flushed down the drain.
Some experienced riders will tend to gravitate to one helmet brand or another and that's because we all have different head shapes and helmet shells come in various shapes as well. There are three different shape styles—round oval, intermediate oval (the most common), and long oval. The only way you can really determine your shape is have a friend take a photo of the top of your head. For those of you lucky to have hair, make sure you slick it down with water or utilise that jar of Brylcreem you have stuffed in the back of the bottom bathroom draw since the '60s.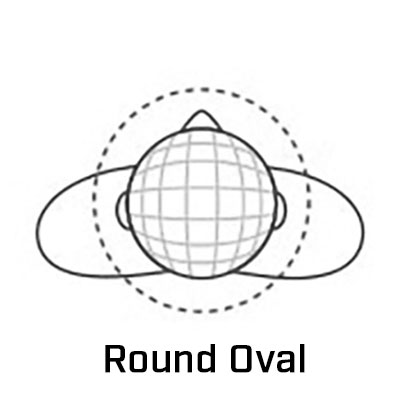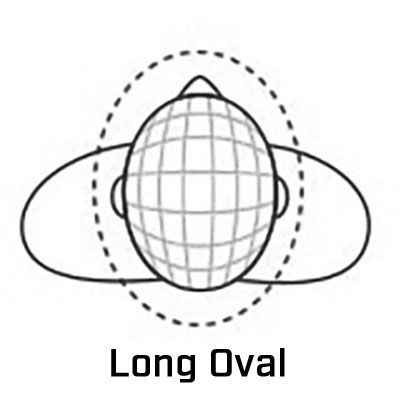 It's all about your Noggin
Once you have determined your head shape and overcome the trauma of spotting a bald patch developing on the top of your head that you never noticed before, then next measure your head's diameter. Once again, get a friend to use a tape measure for an accurate measurement of the circumference of your noggin. Measure just above your eyebrows and circle the tape around the thickest point in the rear of your head. Cross-reference this measurement with a helmet size chart of the brand of helmet you want to buy. Armed with that information it's time to go shopping.
The next step is where it gets personal. You might like a particular style, colour or features and I'm going to suggest you keep an open mind because getting all those to align can be a challenge.
Obviously, comfort is the most important factor, and if possible try on as many brands of helmets as you can. You'll quickly find two or three that work for you. Their prices may vary considerably but my experience has been that the expensive helmets fit better for longer and are quieter during the helmet's life.
Visionary
I don't think people give enough thought to vision. Do you wear glasses full-time or just need reading glasses? If you prefer to wear goggles then make sure your face shield can be closed over the goggle strap. My preference is to wear sunglasses with a 1.5 bifocal lense to read route sheets and my GPS, and I like to ride with the face shield open at times for extra ventilation. So make sure that your glasses fit comfortably. Some manufacturers have a small cut out in the helmet padding so your glasses fit comfortably on your nose. If you wear glasses and prefer goggles then over-glasses goggles are available. Finally, morning and afternoon sun can be a problem, especially if you wear glasses and you're on the main jet to make it to your destination. Meanwhile, kangaroos line the road doing rock, paper, scissors to see which one of them jumps out in front of you first. So consider a helmet with a drop down sunvisor or a Klim Krios Pro helmet with a Transition lens visor.
Say What?
Next is hearing and it's important to protect this just as much any other part of your body. With adventure riding there'll be plenty of highway kilometres and this is where most of the damage is done. It's no different to industrial deafness and over time the damage to your hearing can be permanent. For many years I've worn custom-made ear plugs. I can still hear the environment around me but it takes the edge off the constant hurricane noise. Having something in your ear can be uncomfortable but for your long-term wellbeing, try and get used to it.
Stick your neck out
One of the most underrated head accessories is a Klim Nek Sok or a Tek Sok. At 100kph hitting a blowfly, grasshopper or moth is the equivalent of your sadistic buddy shooting you in the neck at paintball. Seriously, who needs friends like that? For myself I wear the Buff over my nose and mouth. I can easily breathe through it and it stops my mouth drying out. In summer you can soak it in water to keep cool and in winter it's helps keep you warm. If you need more insulation, slip a fleecy neck warmer over the top of your neck sock.
Stay in touch
Finally, but not compulsory, is a Bluetooth communications system. I've had an old Sena Dual system for years and it's never let me down. When riding with a partner the voice-activated Bluetooth connection will work up to 500 metres or more, depending on the terrain. It's always good to warn your mate of a logging truck that nearly took you out, or which side of the creek to cross. (My tip here is to tell him the deepest side and have the camera ready.) You can easily use voice commands to dial or answer your phone and people I've spoken to think I'm in the car because it's so clear. It's also great when it's connected to your GPS and it guides you direct to your accommodation when you come into town late at night.
Make the standard
Finally, the only other thing worth mentioning is to make sure your helmet is either ECE 22.05 or Australian Standard AS 1698-1988 and AS/NZS 1698:2006 approved.
Here to help
If you're nervous about buying online feel free to call any of our staff at Adventure Moto. Buying a quality helmet online can be unsettling considering the investment involved and that's why we have a 'Size Fit Guarantee' on our best Klim helmets. Try the helmet on and if it feels good leave it on for about half hour (no riding as you need to leave the protective film on the visor). If there are no pressure points then you're good to go. If not, return the helmet packaged correctly with all tags intact and we will exchange it for another size or give you a full refund or a store credit that you can use later.
When you finally get the combination right with your helmet, earplugs and neck sock it will completely transform your ride. If your main senses aren't well protected you'll fatigue quicker and raise the chances of things going south. When I combined a quality helmet with good eyewear, ear plugs and a neck sock I started to arrive at my destination in good shape ready for the next day's ride. Like a quality jacket and pants, a quality helmet is worth the investment.
---
Leave a comment