Six Australian Winter Motorcycle Riding Essentials
Author: Team Adventuremoto Date Posted:6 June 2023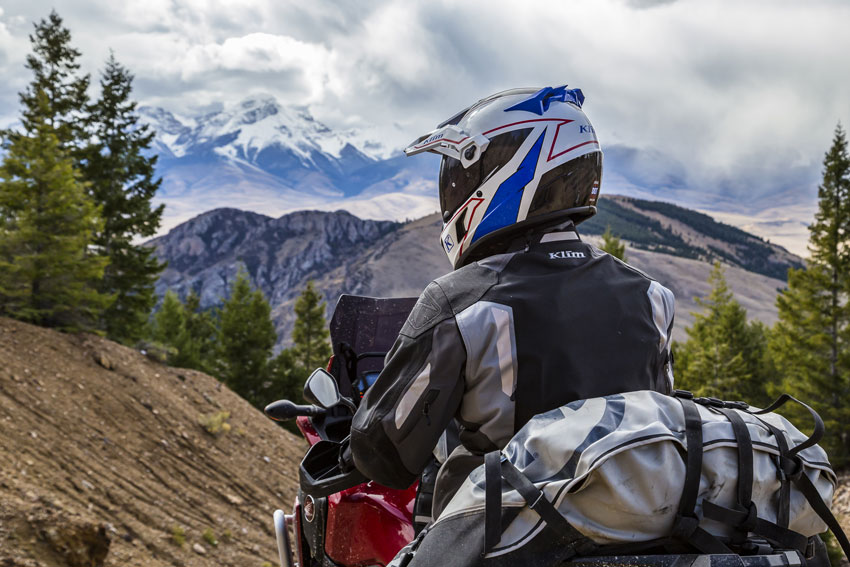 UPDATED: June 2023
Winter is an exciting time for adventure motorcycling, with frosty paddocks under bluebird skies and quiet country roads to explore. But you don't want to freeze out there, so get ready to dive into our Cold Weather Motorcycle Gear Guide, where we break down the essential motorcycle layers you need to rock those chilly rides. We've got you covered, from heated gloves to thermal tops and versatile headwear, so your petrol tank is the only thing getting frosty.
Just make sure to have the proper winter riding essentials, and you'll love to ride year-round.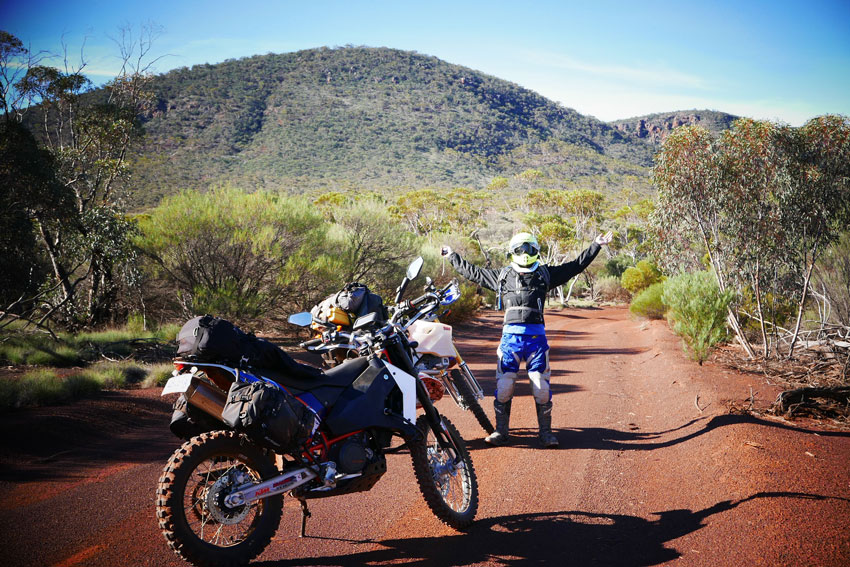 Photo by J Cannon For the 2016 Faces Of Klim Competition
Our 6 Australian winter essentials:
Say goodbye to icy fingers and numb hands on your rides with the Five HG Prime GTX Heated Glove. These gloves are the ultimate solution for those who refuse to let chilly temperatures stop them from hitting the road. With its sleek design and top-notch features, the Five HG Prime GTX Heated Glove is crafted specifically for ADV riders. We love the HG Dual Control heating system, which enables you to control the level of heat in both gloves using a single button on the right hand - this way, you stay in control of the throttle and front brake, ensuring a safer experience when you change the level of heat while you ride.
They are made using high-quality materials and incorporate a Gore-Tex membrane, guaranteeing waterproof and breathable protection.
Layering is essential when it comes to maintaining body heat during cold rides. Crafted from natural Australian merino wool, the Unisex Moto Merino Long Sleeve Thermal Top is known for its excellent insulation, moisture-wicking, and dirt-repelling properties (helping to keep you warm & STINK-free even during intense activities). This base layer offers a comfortably snug fit that accommodates your body's natural motions, perfect for a winter ride to the Snowy Mountains to check out the alpine summits and stunning scenery.
Like the matching thermal top, these bad boys are designed to keep you warm and hug your body snugly without hindering your movements, thanks to their ultra-stretch qualities. Made from premium merino wool, they'll keep you dry and odour-free, even during intense cold-weather activities. So, no matter how wild your winter outdoor rides get, these thermal pants have got your back, or rather, your legs!
Whatever the weather throws at you on your winter rides, you'll be glad you wrapped your noggin in the blissful moisture-wicking warmth of our Moto Merino multi-functional headwear - it's super versatile with nine variations in how you can keep your head and neck warm, such as a neck gaiter, balaclava, or beanie. Made from natural Australian merino wool, it offers excellent insulation and breathability while keeping odours at bay. Whether you need to shield your face from icy winds or regulate your body temperature, this headwear is a must-have for overall comfort on winter rides. We won't be riding without it this winter!
Cold feet can quickly turn an incredible ride into an uncomfortable one. When conquering the winter chill, the Klim Mammoth Socks have your feet covered! These socks are the ultimate weapon against icy toes, keeping you cosy and comfortable throughout your adventures. Crafted with a blend of merino wool and synthetic fibres, they provide superior warmth, moisture-wicking, and odour-resistant properties. The Mammoth Socks feature a thick, cushioned design that feels like a snug hug for your feet, offering maximum comfort and support for adrenaline-fueled journeys.
A reliable and durable motorcycle jacket is crucial to combat harsh winter conditions. The Klim Badlands Pro Jacket is designed for adventure riders who demand maximum protection and versatility. With its advanced Gore-Tex construction, this jacket is waterproof, windproof, and breathable, ensuring you stay dry and stink free even when you're heating things up on the trail. It features adjustable ventilation, multiple pockets, and armour for enhanced safety. The rugged design and high-quality materials make it an ideal choice for exploring Australia this winter.
Don't let the cold bite this winter; gear up for winter ADV rides with motorcycle layers that take care of your overall comfort and safety, so all you have to do is plan your adventure and enjoy the ride.
Stay safe this winter, and ride warm!
---
Products In This Article