A Review and Guide to D3O Motorcycle Armour
Author: Team Adventuremoto Date Posted:22 May 2018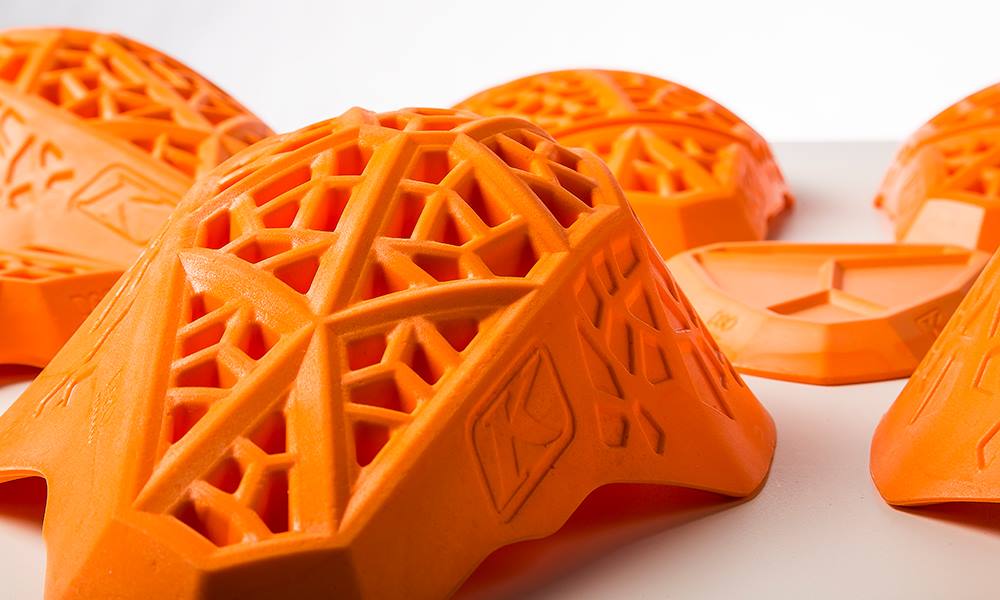 If you haven't heard, D3O (pronounced D-three-Oh) is the all new rage in protective armour here in Australia, and abroad. But what is the stuff, and is it actually worth swapping out your old armour? At the end of the day, you just want to know your armour's got your back, right? And shoulders, elbows, knees and toes. Well, you get the point; the ground is hard, and if you're like us, you just don't bounce back the way you used to. So if there's a better product, why take a risk where risk doesn't need to be taken? If you're concerned about staying safe as a motorcycle rider, be it ADV, off-road, dual-sport, street or otherwise, we're with ya, mate. And after some thorough research and talking to people who have actually hit the ground with this stuff on, Adventure Moto has come to a resounding conclusion on that weird, soft, orange D3O armour: It's definitely won a place in our gear kit. So here's our review and guide to fill you in on the details.
What is D3O armour?
In a laymen nutshell, D3O is sometimes called a viscoelastic or polymer material. It starts off as a liquid and is formed into a solid compound that feels squishy and nice, while creating an intelligent shock absorbing material that's now used in a wide variety of capacities to protect people and their belongings: Motorcycles, sports, electronics, industrial and defence. It's called "intelligent" because it actually contains molecules that flow freely when moved slowly—like when you're shrugging your jacket on and off, or bending your elbows or knees—but upon impact (think, when you thump into the hard red earth in the Outback), the molecules lock together lightning quick to absorb the impact that would otherwise resonate through your body.
Pretty neat, huh? We thought so, too.
D3O's bright orange and almost invisible shock absorption system is far superior to conventional rigid and hard-shell protection systems. Not only that, it's pretty damn comfy, too, since its pliability lets it mould to the shape of your body. Say goodbye to squirming around in the saddle while adjusting knee pads that are digging into your upper knees when riding long distances (that can't be just us, right?).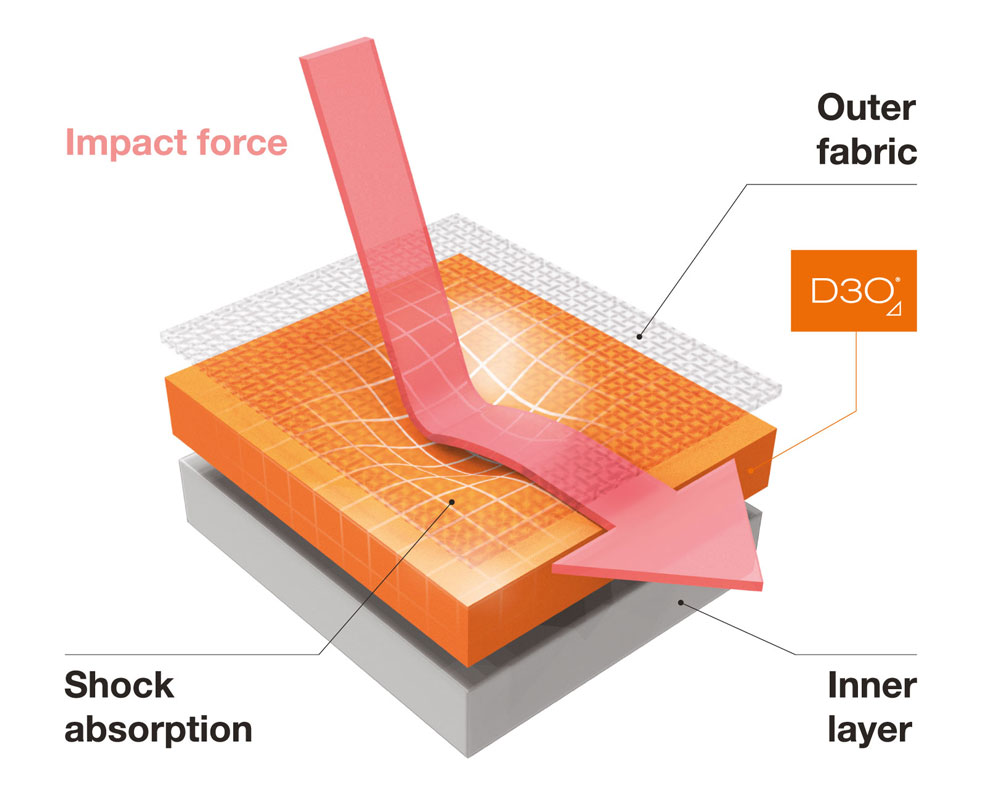 Have KLIM and D3O teamed up?
A few brands of motorcycle apparel have been using D3O for some time now, including KLIM, First Gear, Held and others. And the armour's getting more and more sophisticated, especially now with the introduction of KLIM's new Badlands Pro jacket and pants, featuring Aero Pro D3O armour. This newest model of armour still surpasses its Level 2 CE rating but with more breathability and 44% better coverage for hard riding with the lightweight feel of D3O.
What's Level 1 CE vs. Level 2 CE vs. EN?
If you've done some searching, you'll have noticed the armour comes in a couple different levels, Level 1 CE and Level 2 CE, all with an EN rating as well. CE refers to a European rating system, literally meaning "Conformité Européene", and not to be confused with "EN", for "European Norm" (in this case, D3O exceeds the EN1621-2:2014 ratings for the Viper Pro and Viper Stealth back pads. See all the ratings, here). While these are European rating systems, they're rigorously controlled and are a respected measure of safety worldwide.
As far as back protection goes, the Level 2 Viper Pro back protection offers the highest protective ratings, but is thicker at 18mm, while the Level 1 Viper Stealth is only 11mm thick, and offers less protective properties (but still exceeds EN requirements). Whichever you order, make sure it'll fit inside your jacket, without having to be crammed or bent, and while not sliding around too much.
Was it made by super secretive scientists?
Maybe—the actual science of the stuff seems a little secretive. The D3O® TECHNOLOGIES global headquarters, huge lab and research centre is in South London in the UK, and they appear to be running a pretty tight ship with all sorts of uses and innovative ideas.
If I crash with my D3O, can I still use the same armour again?
Good question. The short answer is to use good judgment. D3O is designed to be hit or compressed multiple times, but if you've taken a spill and the armour looks damaged, don't risk it by using it again. In a truly bad accident with high impact, we'd play it safe and replace the armour.
Ok, ok, but has it been tested?
Look, we're not gonna go wrap ourselves in the stuff and then high-side for this article. But we did talk to some folks who did just that (though not exactly intentionally) and they still swear by it. But anecdotal evidence isn't worth a shite when the research has been done:
D3O's in-house labs have conducted a range of tests, meeting NOCSAE Standards (National Operating Committee on Standards for Athletic Equipment). Independent tests have also been done with Cranfield Impact Centre, the UK's top independent test centre for defence and F1.
And then, of course, there are these guys…
If it's squishy and soft, is it harder to wash and store?
Don't stick 'em in the washing machine, if that's what you're hoping. Like most protective armour, all it needs is a good wipe-down with a damp, clean cloth. Store your armour flat, at room temperature in a dry place, and out of direct sunlight. Don't fold, squish, bend, stretch, twist or otherwise mistreat it, and it'll store just fine.
So what's the dirt, on motorcycle protection?
It wouldn't be a very thorough investigation if we didn't get some dirt, too. We heard some interesting complaints against how D3O handles the extreme cold, which might not be totally relevant to our balmy Australian conditions, but important to be aware of.
Two of the riders we spoke to found their D3O armour had actually frozen stiff overnight in sub-zero conditions. One shrugged into his gear and his body warmth softened the stuff up. The other bloke cracked one of his D3O armour inserts, it was so frozen solid. Why these fellas were riding and camping in sub-zero conditions is beside the point. The point is, it wasn't conducive to near-arctic conditions (FYI, the cracked armour was replaced by the retailer at no extra charge). Apparently, (and this might just be rumour-mill hearsay) the old formula wasn't as good in the cold and it's supposedly been worked out. The KLIM Aero Pro D3O surpassed all four CE tests for ambient, wet, hot and cold.
Another rider we spoke to took a nasty spill, only to discover later that the armour in the knee had snapped. Better the armour than the knee, in our opinion… Again, anecdotal evidence, but we're considering all angles.
Various off-road riders we spoke with complain the Level 1 D3O is too thin and not large enough in area size, but not bad for the freedom and flexibility it gives. We know some people prefer to feel like free birds with no armour at all, and if you're one of them, the lighter weight D3O armour might be just the thing for you, as it's still incredibly good for how thin and comfortable it is. It's still very protective, but lightweight and soft enough that the riders we spoke to say it's barely noticeable.
What about the environment?
D3O is manufactured from sustainable plant-based raw materials, instead of oil-based materials, which is a pretty good sign. The manufacturers try to minimise their carbon footprint in their manufacturing operations and consider the environmental impact at all stages, which is much more than most companies claim. It also complies with European Regulation REACH (Registration, Evaluation, Authorisation and restriction of Chemicals), ensuring their products provide a safe level of protection to human health and the environment from the use of chemicals.
But is D3O expensive?
That's the best part. This stuff is surprisingly reasonably priced, between $38 to $52 for protective knee/elbow, hip, shoulder or Viper 2 back pad.
So, what's the conclusion?
After this lengthy investigation, we're thoroughly convinced there's a place for D3O armour in our gear kit. It's time for an upgrade!
Interested?
Get yours today at Adventure Moto >
Want more info on general motorcycle apparel safety?
For an in-depth study of motorcycle protective clothing, check out this thorough report: Improving Consumer Information about Motorcycle Protective Clothing (2012), prepared for the Motor Accidents Authority of NSW (MAA), from The George Institute for Global Health at the University of Sydney.
---