How to Fit a Motorcycle Helmet: An Adventure Moto Guide
Author: Team Adventuremoto Date Posted:30 August 2018

Many of us gravitate towards a certain look when it comes to motorcycle helmets. Maybe it's the brand or type, the colour, the style, the finish or the matte. Or more likely, you're just used to a certain fit that might not actually be the best or safest option for you. At Adventure Moto, we know that the aesthetic appearance and even the design of the helmet should always, always, be secondary to fit. Why? Because motorcycle helmets are made to fit in a very precise way, and if they don't, they will not protect you as they were designed to. And we've heard it all, from "I like a roomier helmet" to "My loose helmet is better than nothing," or even "I need space for my man-bun/ponytail". But the laws of physics don't care for excuses, and if you take an impact to your head with a poorly fitting helmet… Well, we all know the brain is the most complex organ in the body, so no one should ride with a noggin left vulnerable—and an ill-fitting helmet is leaving you vulnerable. So here are some tips and a guide on how to best fit your next motorcycle helmet.
We wish we could say that any reputable motorcycle store carrying good quality motorcycle helmets will also know how to fit you properly, but sadly, this isn't always the case. Many shops do offer expert care and attention to helmet fitting (which can be invaluable), but when that's not possible, or if you're ordering online, keep these steps handy.
How to Fit a Motorcycle Helmet: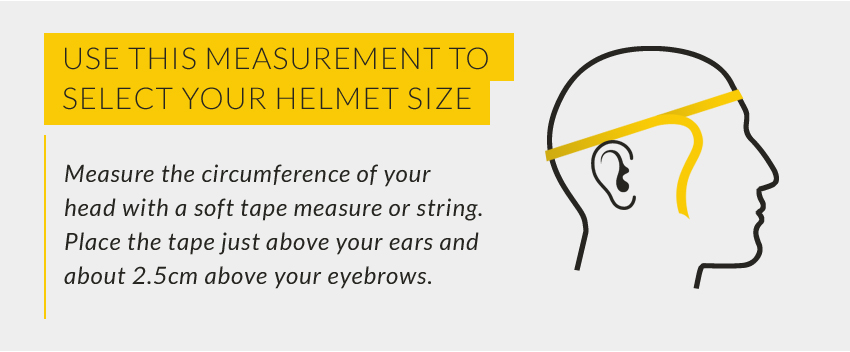 1. Measure the circumference of your head with a soft tape measure or string
While there may be some adjustment options with different sized insert padding, the size of the helmet is key. Klim suggests measuring the circumference of the head just above the top of your ears, or about 2.5 cm above your eyebrows. Measure the biggest circumference around your head. Note that different brands have slightly different sizing, just like any other piece of apparel. Where the large Klim Krios Karbon Adventure Helmet ECE and Schuberth helmets are 58-59 cm, the large Nexx XD1 Baja Helmet is 59-60cm (and even within the same brand, there can still be discrepancies in size). When you're shopping for a helmet, make sure to always check the manufacturer's helmet sizing charts for that helmet, as well as the overall shape, which we'll go into more detail on later.
2. When possible, try it on.
This is important, but especially so because many people ride around thinking their too-big helmet is "perfect".
It shouldn't be a battle to get your helmet on, but it also shouldn't slide on easily. While holding the chin straps in each hand, pull them apart and firmly slide the helmet over your head (this will keep the straps from bunching inside or getting caught on your ears).
Check out these guidelines to see if the helmet is a good fit:
Though it should slide on with some difficulty, it shouldn't be painful. It needs to be a snug fit over your brow and the crown of your head. If it slides on too easily, it's too big. Think tight but cosy hat snug, not child-sized bicycle helmet snug.
Take both hands and try to rock the helmet back and forth and side to side with the helmet on. There should be very little to no movement in a properly fitting helmet. If you take a fall, you do not want that thing to budge.
Try sticking your fingers into the helmet up against your forehead. Do your fingers fit? They shouldn't.
Take the chin bar and yank it down. If it comes down and the helmet covers your eyes, it's too big.
If you feel any pressure points or pain (ears, forehead, temples, pinching at the back of your head, etc), it's not the right fit—either it's too big or the wrong shape (more on that, below). Those small pressure points in the first few minutes can burn after a long ride.
Yes, you might feel like a chipmunk with your cheeks squished together, and it might even feel silly or slightly difficult to talk. But so long as it isn't painful, it's par for the course. Helmet pads should always be in firm contact with your cheeks, no matter how you try to move the helmet around on your head from side to side or front to back. Over time, those compressing cheek pads will start to relax a bit as the helmet takes on your head shape.
With the chin strap done up snugly, try rotating the helmet forward and slipping it off your head. If it starts coming off, try a smaller size.
And just to make sure, try a smaller size anyway! You might even find the smaller size is even better since so many riders are riding around with ill-fitting (big) helmets.
Wear any helmet you're considering buying for a good 10 or 15 minutes to see if any hot spots develop.
For those of you with naturally laughing buddha-like or very gaunt cheeks, many helmets do offer cheek pads of varying sizes (and replacement pads). If you think everything fits just right except the cheek pads (too tight or too loose), this might solve the problem.
Shopping online? Make sure to get your helmet from a retailer with a great return policy and a size guarantee. At Adventure Moto, our motto is, "If it doesn't fit, just send it right back- no charge!"
3. Head shape matters
Not all helmets are made equal. Or even the same shape. Still not getting the right fit? Try a different brand or model, as there are various shaped helmets in round and ovals. Many of the lower range helmets are round, while the higher-end helmets start developing different oval shapes for a precise fit (and that's a good thing).
One way to see what shape head you have is to lean down and have a friend take a photo of the top of your crown (pull the hair down flat if need be). A round head will be about as long as it is wide (forehead to the back of the head vs. ear to ear). Intermediate oval and oval heads will be longer from the forehead to the back of the head than they are ear to ear.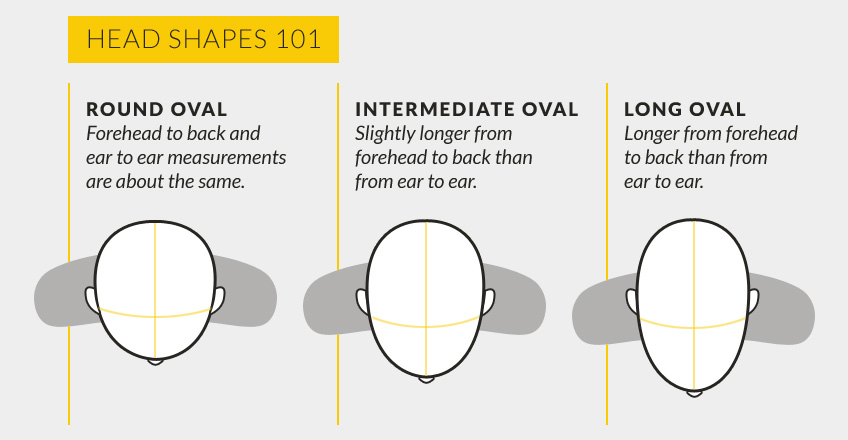 4. Used helmets are high risk
It's always tempting to get used gear, but when it comes to helmets, it's too high a risk. Though the outside of a helmet may look like it's in decent nick, there could be damage to the inside of the helmet that's undetectable to the naked eye. And as we said, the brain's a pretty big deal.
5. Long hair, thick hair, and headwear
For riders with turbans, dreadlocks or Rapunzel-like locks: Just remember that you're more at risk with a helmet that doesn't fit properly. And we mention this because we know some folks who have bought helmets a size too large, thinking this might solve the problem. But to ride as safely as possible, try wearing your hair down in your helmet (or wear a low bun at the nape of your neck) and seriously consider wrapping turbans or other religious headgear when you get off your bike, if and when possible. And a note from a friend on this matter: "I'm Dharam. I'm a Sikh and I bought a helmet way too big in order to fit over my turban while riding my Triumph Tiger. Instantly regretted it, and now I'm getting a new helmet that fits right! I'll do some banis while I re-tie my pug before I leave and after I arrive."
A snug fit is key!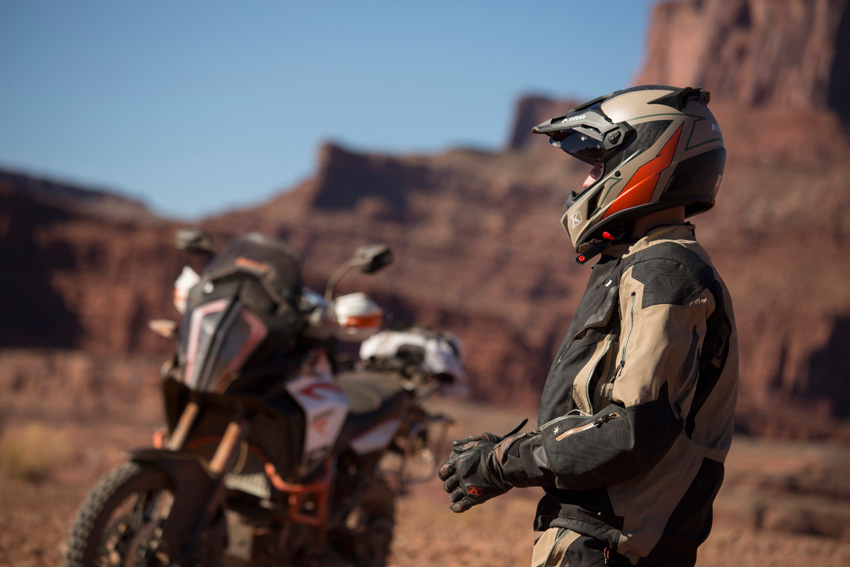 6. Prescription glasses and sunnies
This is Australia, so this is an important one, especially if you wear glasses full time. Your glasses shouldn't fit your helmet, your helmet should fit your glasses. (The only time we don't think this is true is if your glasses have a large bulbous shaped piece that fits behind the ear, which can cause significant pain in many helmets.) Sure, if you're using gigantic glasses the shape of a grapefruit, you might want to knock 'em down a size or two. But generally, some helmets fit glasses better than others, and it's an important consideration. Fighting to get your glasses on and off is never pleasant. Another option are helmets with transition lenses for those who always ride with sunglasses.
7. Earrings + food ≠ good helmet fit
While snacking and wearing a helmet is fairly prohibitory, earrings and helmets are downright painful. Alas, how many earrings have been taken by helmet-goblins? (At least 6 pairs, to our reckoning). If you think your helmet is too small because it pulls on your earrings or makes eating or chewing food or gum difficult, think again. Stop eating while riding, and take earrings out before putting your helmet on.
8. Time to choose
Once you know what a good fit really feels like, and which brands or models work for you, then you can start looking at other options: Visor, vents, weight, colour, graphics, style, and of course price. But don't get distracted from what really matters most: The fit.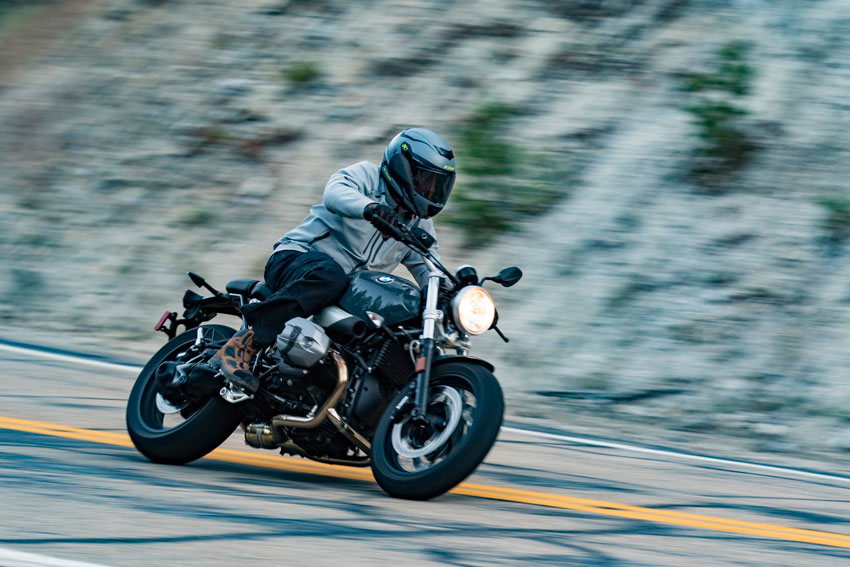 A Few Of Our favourite Helmets
Personally, we really love the KLIM TK1200 Karbon Modular Helmet ECE/DOT and the Klim Krios Karbon Adventure Helmet ECE/DOT with a transition lens. But of course, it's your head, and it's all about (yes, we'll say it again) THE FIT!
Still not sure?
Stop by one of our Adventure Moto shops in Sydney or Brisbane, and we'll help sort you out.
We hope this helped, and remember, a helmet is useless if you haven't done up the strap!
Happy Riding,
The Team at Adventure Moto
---
Comments (1)
Sooner or later !

By:

David Hopkins

on 30 June 2019

After riding with open faced helmets, road and dirt for fifty years, I finally met a wallaby and face planted the bitumen at 100 kph. I found out the hard way which is tougher, teeth or tar ! Also the extreme importance of quality riding gear. My adventure suit was totally destroyed but all I suffered were broken teeth, concussion and a sprained ankle. Be very careful of concussion after a big hit to the head. PS: wobbly was fine.
---
Leave a comment