Ride Smarter: New Study Reveals Motorcyclists' Attitudes on Using High-Visibility Gear
Author: Team Adventure Moto Date Posted:2 September 2019

Ever shopped for motorcycle apparel? If you're reading this, you almost certainly have. And you might not have consciously noticed that a huge percent of it comes in black and grey tones, with the odd army green. But if motorcycle safety and focusing on visibility is important to you (as we hope it is), you may wonder why manufacturers aren't using brighter, more attention-grabbing colours or fluoro designs in their riding apparel. While black and grey look classy and sleek, they're the experts in riding safety gear. Surely they could come up with something brighter that still looks great. So what's the delay? It's all about supply and demand.

Demand high-vis apparel riders will want to use.
The USA's Department of Transportation recently published findings revealing motorcyclists' attitudes towards using high-visibility gear, and why riders often decline to use the potentially life-saving outerwear. Though motorcycle accidents involving a right-of-way violation by another vehicle is often attributed to the other driver "just not seeing" the motorcyclist, this study found that only a minority of riders are in the habit of wearing high-vis gear on a regular basis, even when they recognize it could save their lives.
Let's imagine a brief scenario:
If one hundred seasoned riders were seated together, and we asked all riders who have had a close call with a distracted driver to stand up, what percent of the room would remain seated?
Zero.
We don't know a single seasoned rider who hasn't had multiple close calls with distracted drivers, or drivers who just aren't in the habit of seeing motorcyclists.
High-vis gear needs rebranding and better designs. Plain and simple.
The US study consisted of 18 focus groups across the States, dividing riders up by type of bike and by gender, when possible, and all were active riders or pillions who rode at least once a week. Locations were chosen for their high proportion of riders, and other factors like climate and traffic conditions. (Read the full report, here)
Why, according to this new study, are riders across the United States -- and across Australia-- still shunning high-vis gear, even amidst recent Australian Road Safety Statistics showing an increase in 2019 motorcycle fatalities?
The latest Australian road fatality data (July 2019) shows that:
During calendar 2018 there were 1,137 road deaths (provisional).
For 2019, there have been 729 deaths (provisional). This is 75 deaths (11.5%) higher than the same period last year.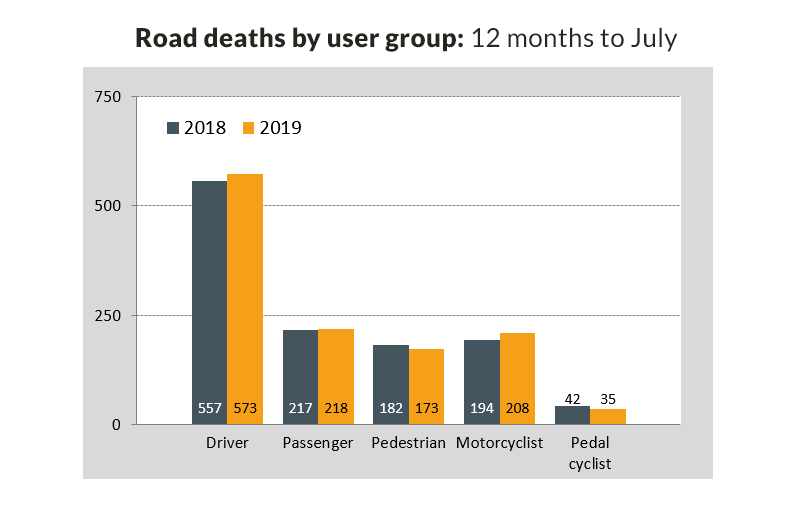 Bureau of Infrastructure, Transport and Regional Economics
One of the main roadblocks turns out to be an objection to the way it looks, and beliefs that high-vis apparel doesn't fit with riding culture. Simply put, riders are choosing fashion over function. No surprise there, but risking safety isn't the answer. What is? An overhaul of reflective motorcycle clothing, rebranding of high-vis itself, and better clothing designs targeted at a wider riding audience.
Laser-beam drivers into alertness. POW!
High-visibility materials are by design intended to be seen, to increase the visibility of the apparel, and to make it stand out against the background. The retroreflective properties not only bounce rays back in the direction from whence they came (that oncoming ute barreling down on you), but it also emits wavelengths longer than those it absorbs (so that far off road train can spot you from a greater distance).
Here's what you need to do:
Buy smarter, buy brighter.
Can't find something you love? Make your voice heard. Tell your favourite apparel maker to start designing high-vis apparel with both brighter colors and more fashionable designs, and to feature riders young and old actually using it.*
Sport high-vis with pride, every ride.
Support your friends by saying nice things.**
Ride smart, with simple, cheap, life saving high-vis gear.
If you already have a jacket you love, the 2019 Klim Vantage Hi-Vis Vest is the perfect way to brighten it up. Save your life (and your life savings) with this cheap and effective option.
Pair it with the rad REV'IT! Liquid Cooling Vest, so you can stay focused on the road, while drivers stay focused on you.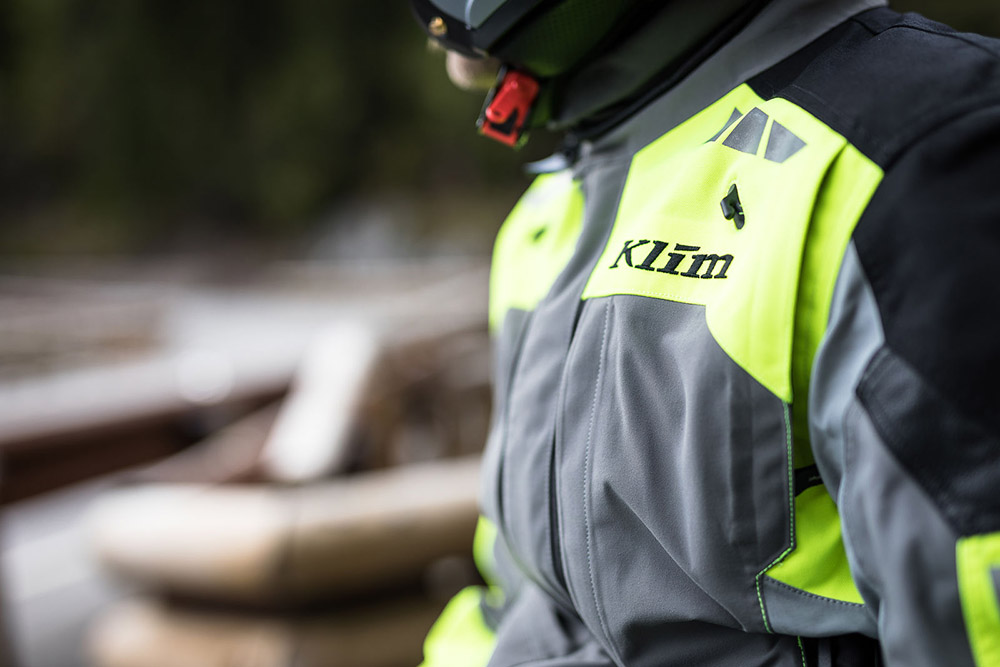 Ride smarter, with brands already doing it right.
Shop the new 2019 Klim men's Latitude or women's Altitude jacket in high-vis yellow for max protection, reflection, and high-visibility. Because your life is worth it.
Do you use high-vis gear? Let us know why or why not in the comments section at the bottom of this page.
*Too bad photos of James Dean were in black and white, thus setting a misplaced decades-long trend, since his "black leather" jacket was actually made of abrasion and tear-resistant materials, with incredible armour and awesome reflective properties sewn throughout, much like Klim's modern gear. That guy! He was always saying, "Love my [super bright and safe] jacket. Love it. Remember, safety first, folks, and live to ride another day." ***
** "Wow, you look so alive today Dazza/Shazza. That James Dean inspired [orange, red, blue, green, turquoise, magenta, leopard print] jacket really works for you!"
*** Don't quote us on this.
Still not convinced you need high-vis gear?
Take a look at these graphs from Australia's Department of Infrastructure and Regional Development. Then stop by one of our Sydney or Brisbane shops, or take a look at our online selection of gear for men and women.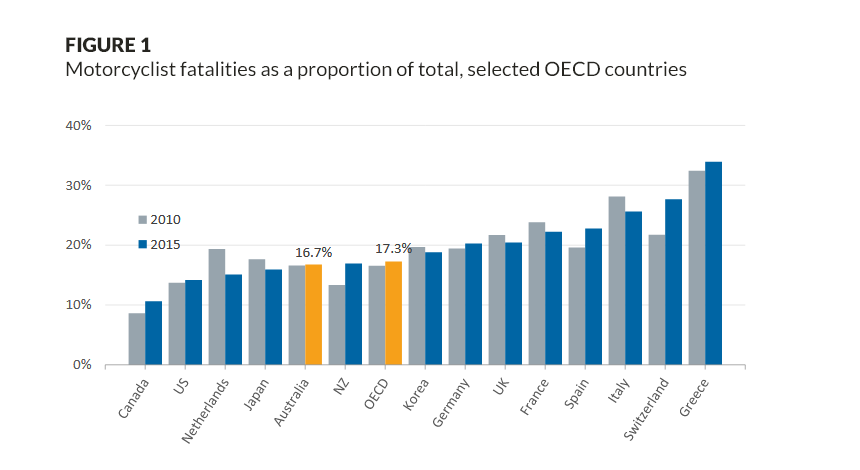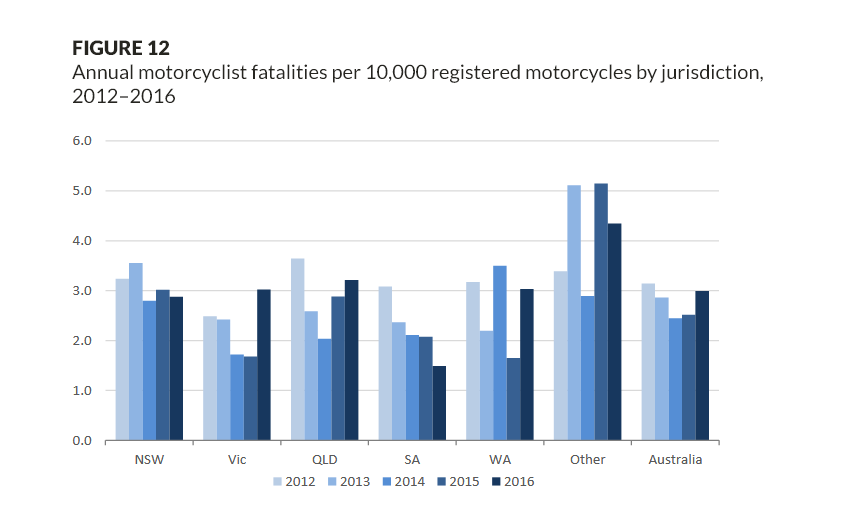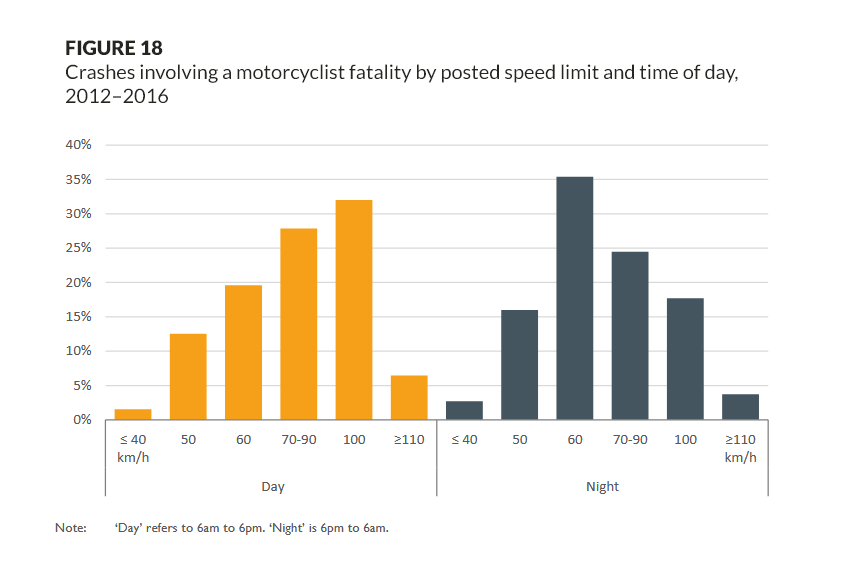 ---