6 Summer Motorcycle Riding Essentials
Author: Steve Smith Date Posted:9 January 2018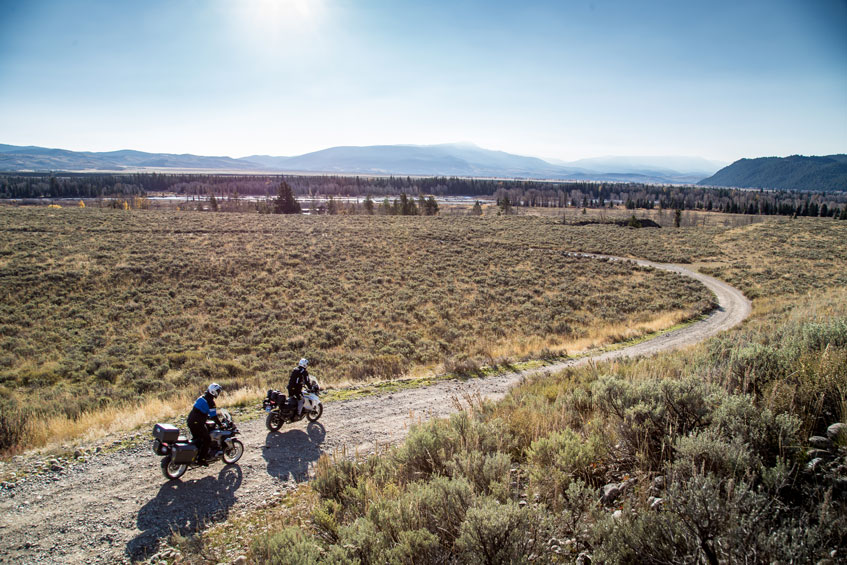 Summer riding can be a hot and uncomfortable mess anywhere, but in Australia, we have to be especially careful. With our brutal heat and long stretches of dry, solitary road, Aussie riders need to take particular care, which is why we've put together a list of the top 6 summer motorcycle riding essentials for any rider.
1. Water
Because we can't survive more than a few days without it, and in the Australian summertime heat, even a few hours without water can be risky business. While riding, moisture from your body is being constantly sucked away by the wind and sun as you sweat, and staying properly hydrated can be a surprisingly difficult task. That's why we recommend a minimum of 3 litres water capacity on your bike and much more for longer or remote rides into the bush. No one wants to be stranded without water, so carry enough for an emergency stopover. But just carrying water isn't enough. You need to have access to your water supply as you ride, or you'll risk not taking enough in and becoming dehydrated. We suggest carrying water in a hydration pack with an easily accessible hose, for easy sipping while you ride. We love the Klim Hydrapak reservoir with its 3-litre water capacity and large opening for easy filling and cleaning, and a handy quick-release hose. Combine it with the flat, durable and leak-proof 3.8-litre RotoPax water canister, and you're good to go!
2. Ventilated motorcycle clothing
Ventilated motorcycle clothing vs. water was a tough choice for the #1 spot, but we decided that you can probably survive in hot clothing for longer than you can survive without water. That said, ventilated clothing should be a top priority, so you don't get tempted to peel back the layers and ride unprotected. While we understand the joys of riding in a t-shirt and shorts, safety has to come first, and exposing your skin comes with a double risk: road-rash and sun exposure. These days, motorcycle pants and jacket designers and manufacturers are coming out with gear that's made for our hot climate, to keep you both safe and comfortable. So choose the best quality gear you can afford, and keep your skin protected. We love the all-new Klim Induction jacket, created for those who need safety and functionality with fully-ventilated mesh and the same protective qualities found in heavier-duty gear.
3. Lightweight Gloves
Lightweight gloves because we see riders with bare hands all the time, and even in a minor crash, your hands will likely be the first point of contact. And while your hands might feel gnarly and weathered, they won't stand a chance with the pavement. So make the right choice, and buy lightweight but protective summer gloves that aren't too tight, so your sweaty palms can slide in without a fight. Our top choices for summer motorcycle gloves are the Dakar gloves, popular for their larger sizes for men with big hands, plus stretch-fabric. On the tougher side are the Held Sambia Gloves, with stretch fabric across the back, hard knuckles and kangaroo leather palms—Both perfect for your summer rides!
4. Ventilated Helmets
Ventilated helmets aren't an absolute necessity, but once you have one, you'll never go back! With manufacturers using precise techniques to create the best-ventilated helmets while maintaining top safety ratings, this is a purchase that's worth the expense and will make your summer riding days much more bearable. We suggest the KLIM Krios Karbon Adventure Helmet with its cross ventilation airflow through the chin bar vent and a closable top vent, making it an ideal choice for slow-to-go.
5. Cool Core Base Layers
Maintaining a cool core is paramount to comfort and safety, beyond just ventilated jackets and pants, and helps keep your attention on the road. From cooling vests to shirts engineered with specific breezier and sweat-wicking knits, there are great options for any on and off-road riders, and for all conditions. With so many to choose from, we've narrowed down our favorites to four great choices. We love the Forcefield Technical Base Layer with BeCool™, using polyamide fibre with integrated airflow control that really works to maintain a cooler core while riding. A great short-sleeve option is the Klim Aggressor Cool -1.0 shirt, a chemical-free cooling and moisture-wicking fabric that's been tried and tests for top performance. Moto-Skiveez has recently come out with a technical shirt that uses a Hydro-Sport branded fabric, designed for maximum wicking and evaporation while protecting your riding jacket from the natural oils and salts in perspiration. And finally, the Klim Mojave Jersey offers a fully-ventilated shirt designed for aggressive riders in the hottest environments. Choose one of these great options, or buy all four and always have one on hand when you need them most!
6. A Personal Locator Beacon (PLB) or Satellite Messenger
A Personal Locator Beacon or satellite messenger is always a prudent measure should emergency strike this summer. It not only lets you call for help in an accident, it gives your family some peace of mind, too. And if you purchase a PLB with a tracking feature, rescue workers or your family will be able to find you, even if you're unable to call for help. These days, there are many brands offering different features, from the more sophisticated Garmin (previously DeLorme) inReach to more basic brands. Choose devices strictly for dire emergencies, or those that allow you to also send personal messages to family and friends. Either way, a PLB placed in a handy location is an important investment, and can be used across activities. For motorcycle riding, we suggest carrying such devices in lower cargo pants pockets, away from vital organs in your torso in case of a crash, where a hard object could do serious damage. Think again before attaching these items near places where serious impact is more likely to occur, like around clavicles, which are a popular, if ill-advised, location. We recommend the Garmin inReach, or the SPOT Gen3. With help at the push of a button, GPS tracking and messaging features, these are both great options for keeping friends and family in the loop.
Don't Forget:
While these are our top 6 choices for summer motorcycle riding essentials, don't forget to be prepared with an emergency sun-shelter for longer or more remote rides in case of a breakdown, and a good supply of salty snacks or rehydration tablets to replenish the loss of salt through sweat. And don't forget a good first aid kit tailored to motorcyclists and a proper toolkit!
Ride safe this summer, friends!